"At what temperature is Tilapia done?" – This is probably the first thing that comes to your mind before cooking this type of fish. Many people have tried overcooked Tilapia, and believe us. It doesn't taste good. It's always the most important thing of all to know the right internal temp for any kind of food so that it can be safe to eat. This article will unveil the proper ways of cooking Tilapia to perfection.
At what temperature is Tilapia done?
Tilapia is a delicate kind of fish, it's quite similar to cod, but it's even more delicate. This white-fleshed fish tastes best when cooked at 450°F for a cooking time of 8 – 10 minutes. Once 8 minutes have passed, you should use an instant-read meat thermometer to check the fish's internal temperature. The minimum internal temp of the Tilapia should reach 145°F, according to the USDA and FDA.
Cook the tilapia in the oven at 450 degrees Fahrenheit for about 18 to 20 minutes. Don't forget to check the internal temp of the fish. You can also test the fish's doneness by using a fork, as a cooked through tilapia will flake easily with a fork. If you cook your tilapia in a 350-degree oven, cooking time should be extended to 20 – 25 minutes.
Tilapia usually requires less cooking time than most kinds of fish, as it tends to be thinner. The good thing about cooking tilapia is that you can choose whatever spices you want to season the fish. It can be the classic option of salt and pepper, or you can go with cumin, paprika, garlic powder or even curry. The possibilities are limitless, and it all comes down to your taste preferences.
You might also be curious about: 6 Ways to Know If the Chicken is Cooked Without a Thermometer
Best ways to cook Tilapia that you should try
Pan-frying Tilapia
Step 1: Place a skillet on a stove and heat It over medium-high heat. Rub both sides of the tilapia with salt and pepper.
Step 2: Pour 1 tbsp of olive oil into a frying pan and place the tilapia in the pan. Then cook the fish on one side for about 2 – 3 minutes. Flip the tilapia fillet to the other side and cook it for another 2 minutes.
Step 3: Remove the fish from heat when the thermometer registers 140°F. Don't worry. Its internal temperature will rise from 5°F-10°F by carryover cooking.
Step 4: Check the tilapia's internal temperature again and serve once it reaches 145°F.
Baked lemon butter tilapia
Ingredients:
Chopped fresh parsley leaves – 2 tbsp

Tilapia fillets – 6 ounce

Zest from 1 lemon

Freshly squeezed lemon juice – 2 tbsp or more

Garlic – 3 cloves, minced

Melted butter – 1/4 cup
Instructions:
Step 1: Preheat an oven to 425°F. Then grease a baking tray lightly or spray it with nonstick cooking spray.
Step 2: Combine lemon zest, lemon juice, garlic and butter in a bowl, then set aside.
Step 3: Add salt and pepper on both sides of the tilapia to taste and then place it on the greased baking tray. Drizzle the butter mixture over the fish.
Step 4: Transfer the baking dish to the oven and cook for approximately 10 to 12 minutes or until internal temp reaches 145°F.
Step 5: Serve while hot with parsley as garnishing.
See also: Are Jack Crevalle good to eat or not? Facts About Jack Crevalle.
You can apply the 10-minute rule when cooking tilapia, but make sure to check the internal temperature. This rule consists of cooking tilapia for approximately 10 minutes per inch. Then flip it around halfway through the cooking time. To give you an example, if you have a 1-inch tilapia fillet, the cooking time for each side should be 5 minutes. However, if your tilapia steak is less than 1/2 inch thick, flipping it over while cooking is unnecessary.
How to cook a whole Tilapia
Step 1: Preheat your oven to 400°F. Then make some slight cuts on both sides of the tilapia. Rub the tilapia with salt and pepper both inside and outside, then finish by adding some olive oil to the exterior of the fish.
Step 2: Lay the fish in a baking tray and transfer it to the preheated oven. Bake for about 18 minutes and check the tilapia's internal temperature. It will be ready to serve when the required minimum internal temp is reached, which is 145 degrees Fahrenheit.
There are many side dishes that you can come up with when serving tilapia. It can be grilled vegetables, potato dishes (mashed, fried, roasted…), salad or pasta.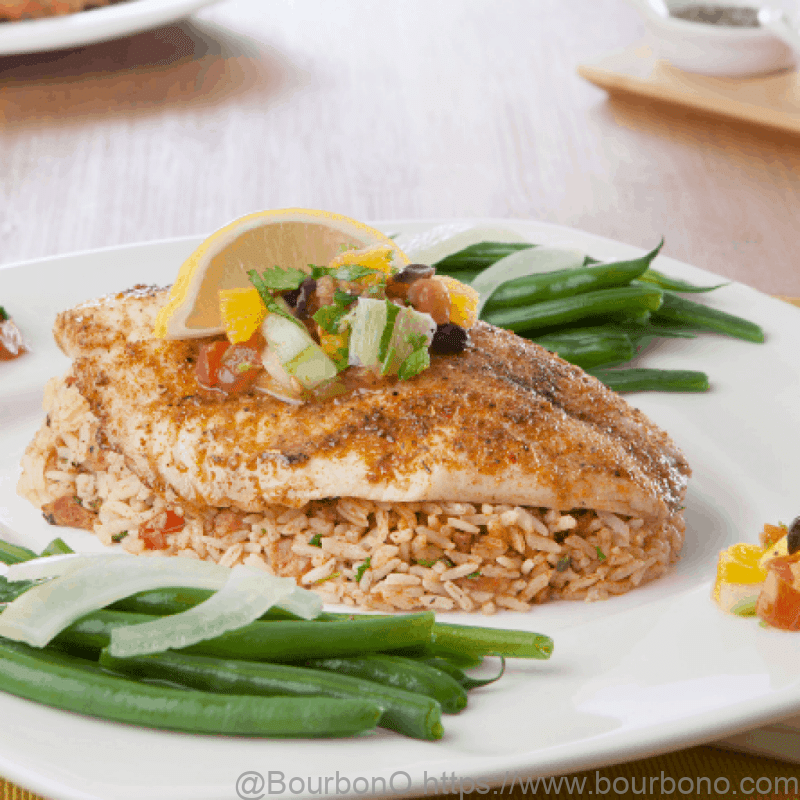 Hopefully, with the help of Bourbon O's guidance above, answering the question: "At what temperature is Tilapia done?" is no longer challenging for any home cook out there. Thank you for reading, and remember to give us a review if you try to make your dish of tilapia using the recipes Bourbon O gave you.