Texas Roadhouse portobello mushroom chicken has gained so much popularity in the food industry in the U.S. for around 50 years. Over the last 50 years of operation, Texas Roadhouse has been also famous for its steak, ribs, and seafood.
The Texas Roadhouse portobello mushroom chicken is a meal with a great combination of perfectly grilled fresh, marinated chicken breast and dressing with homemade Portobello Mushroom sauce on top, jack cheese, and fresh Parmesan served with sautéed mushroom and mashed potatoes with butter and cheese.
As you can see from above, to get the Texas Roadhouse portobello mushroom chicken we need to do cook chicken, Portobello mushroom sauce Ingredients, mashed potatoes, and sauté mushroom on the side.
But, in this article, we will focus on two main things of the dish which are the chicken and Portobello mushroom sauce Ingredients. Without further ado, let's dive right into the preparing and cooking parts.
What to Prepare and How to cook
Texas Roadhouse Portobello Mushroom Chicken ingredients
Before cooking this dish, I want to have a few words about consuming portobello mushrooms. Not only is it scrumptious and versatile in cooking, but it also has some significant positive impact on your health. Portobello mushrooms contain a lot of water which makes them low in energy density and are a good source for supplying fiber for your health.
Because they are low in energy density, they don't provide many calories. Therefore, eating portobello mushrooms can help you maintain your weight or even lose it. Plus, it's also a great source of protein and B vitamins which are necessary for metabolism and maintain your liver, skin, eyes, and hair in good condition.
Caution
In their unprocessed form, almost every type of mushroom contains traces of carcinogenic chemicals. Portobello mushrooms have the same toxin, hydrazine, while shiitake mushrooms contain a naturally occurring formaldehyde. Both compounds are heat-sensitive, and when exposed to heat, they disappear. You might think nothing of eating a few slices of button mushrooms fresh, yet cooked mushrooms have anti-cancer properties.
Portobello mushroom sauce ingredients
5-6 oz condensed cream of mushroom soup
Soybean oil
8 oz Portobello mushrooms
All-purpose flour
Water
white pepper (To taste)
Dried and coarsely ground garlic (To taste)
Salt (To taste)
White sugar (To taste)
Portobello Mushroom sauce instruction
Step 1: Sauté portobello mushrooms
Slice the mushrooms into the small and thin pieces.
Pour some oil or butter into a sauce pan and turn on the stove in medium heat. (We highly recommend you to use butter to enhance the appealing fragrance of the portobello mushrooms.)
Once the oil is hot, put the sliced mushrooms into the saucepan for about 2 or 3 minutes. While waiting for that, move to step 2.
Step 2: Mix mushroom cream with water
Prepare a large bowl to contain the mixture.
Respectively, pour just a little bit of warm water (It won't work if you add too much) and the condensed cream of mushroom soup into that bowl and mix those until it is well-combined.
Step 3: Put the mushroom cream mixture and other ingredients into the saucepan
After the mushrooms are being cooked for 2-3 minutes in the saucepan, you will need to add in flour and continuously stir for 1-2 minutes. Be careful not to brown.
Then, you add the mushroom soup mixture, pepper, garlic, salt, and sugar until it's all combined.
Now you're done with the sauce which is the essence of the dish. Moving on to the next process, we will cook the chicken, then we are able to enjoy our work.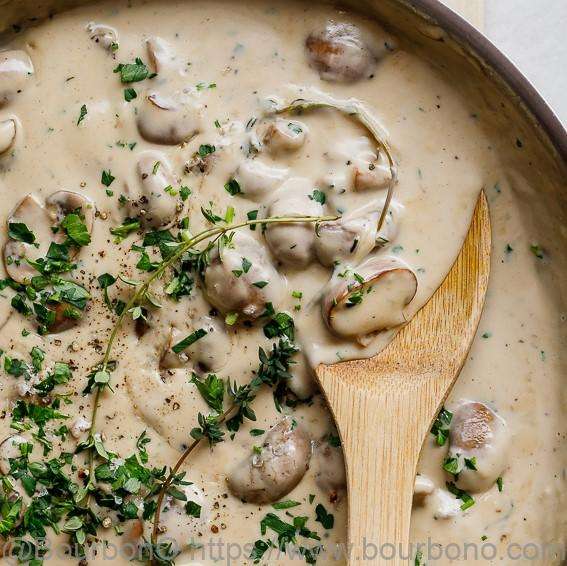 Portobello mushrooms chicken ingredient
2 cups grated Parmesan cheese
6 or 8 grilled boneless chicken breasts
Chopped green parsley (To taste)
2 cups sliced Monterey jack cheese
Portobello mushrooms sauce
Sautéed Portobello mushrooms
Portobello mushroom chicken instruction
Step 1: Grill your chicken breasts
It's not something too complicated and I think we don't have to go particularly into this step, you just need to grill the chicken as you like.
Step 2: Let the jack cheese leak into the chicken meat
You first need to make some slits on your chicken meat, then stuff jack cheese into each slit. In the next step, you have two different ways to do this step:
Using your stove: Pour some oil or butter into a nonstick pan and put it on the stove with medium heat. Place the chicken breasts which are stuffed with jack cheese in each of it slit. Then, wait until the cheese melted and get into the chicken.
Using your oven: Place the cheese stuffed chicken on a oven tray and set the oven with medium heat to slowly melt the cheese. You need to be careful to not overcook the grilled chicken.
Step 3: It's time to eat
After the jack cheese is melted and goes into the chicken meat, it's time to use the portobello mushroom sauce we've successfully made in the previous section. All you need to do is pour the entire mushroom sauce on the chicken. After that, you will be mouthwatering already.
But, hold on, in order to blast the taste you will need to put some other ingredients: chopped parsley, pepper, and grated Parmesan cheese
That's it; your Texas Roadhouse portobello mushroom chicken for your lovely dinner is ready.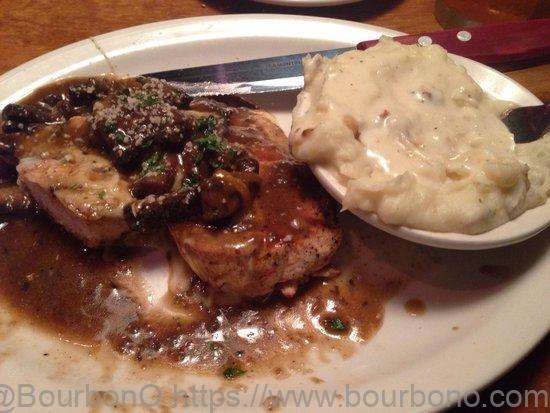 Serve your Texas Roadhouse Portobello Mushroom Chicken
Once you have done all the steps above, I recommend you make mashed potatoes with butter and cheese to serve on the side of the chicken. It's the best way to enjoy the portobello mushroom chicken. Believe me, you won't be disappointed.
Cooking tips
When cooking, you should use butter instead of soybean oil. It's because butter will be better in enhancing the flavors than soybean oil.
How to choose mushrooms: Avoid picking up mushrooms when it's a little bit yellow and lacks a ring. Because they're might be poisonous mushrooms. Pay extra attention to that criteria when buying mushrooms and always try to buy fresh mushrooms which are dry and do not have any dark spot.
How to wash the mushrooms: Take portobello mushrooms that are firm, sturdy, and free of dark spot. Take them in a perforated bowel. One by one, wash with cold water. Dirt may be removed using a finger. Using a paper towel, dry them. Please don't wash all of them at once; if you do, the hard flesh will fall apart.
Read more: 4 food ideas for "A little pumpkin is on the way" baby shower theme
Texas Roadhouse Portobello Mushroom chicken calories
Whatever food we love; we must take care of our health. We should avoid eating unclean food and all fast food items. However, the Portobello mushroom chicken is an excellent diet-friendly food. It is a protein-based food that contains 300 calories and 50g of protein.
When you search for and read this recipe, we know that you pay careful attention to your health. As we mention above, chicken breasts and portobello mushrooms are excellent diet-friendly foods and great sources of fiber and protein. Therefore, this meal is a protein-based food to give you more energy but only contains around 300 calories. Below is the table of Texas Roadhouse portobello mushroom chicken nutrition facts for 1 serving.
| | |
| --- | --- |
| Calories | 300 |
| Protein | 50g |
| Total Fat | 15g |
| Cholesterol | 185g |
| Sodium | 710mg |
| Carbohydrates | 6g |
Nutrition Facts
Our recipe for Texas Roadhouse portobello mushroom chicken is quick and easy to cook. It only takes you about 30-45 minutes to cook a lovely and healthy meal with tones of benefits for your family and you to enjoy at home. Plus, you still can eat this delicious meal, while you're on diet. We hope that this recipe will satisfy you. Please comment below to let me know if you like it. Thanks for reading this article on Bourbon O.