If you're a new vegetarian, it is quite hard to transition into something that you're not used to especially if meat used to be a major part of your diet. However, you can actually make things easier during your transition by looking for alternatives. Here are the foods that vegetarians need to avoid together with their vegan-friendly alternatives.
Red Meat
Red meat would consist mainly of beef, lamb, and pork. This would usually be found in burgers and other meat dishes such as steak and lamb chops. While meat is a good source of protein, it is also a huge source of cholesterol and saturated fats.
If you are the type who normally craves steak or burgers, there are certain ingredients that you can use in order to still enjoy the likes of burgers and steaks. Veggie burgers are all the rage these days because many people are becoming more aware of the dangers of consuming a lot of red meat.
With this, burgers with patties made out of tofu, potatoes, and mushrooms can be found. As for steak, there are vegetarian steaks made out of tofu, mushrooms, or beans known as legumes. There are actually a lot of restaurants that serve what is known as "faux meat".
A lot of vegetarian restaurants serve these to people who love to eat meat but are looking for a healthier alternative. 
READ MORE: Everything to Know On How to Use Smoker Box 
White Meat
White meat such as poultry and fish are known to contain extremely high amounts of protein–the type of protein you'd want in your body. Fish is also known to contain omega-3 fish oil which is needed for neuro health. For those who want to become vegetarian, there are a lot of alternatives to these.
Nuts are known to have a lot of protein. Nuts such as chickpeas (otherwise known as garbanzos) have 12 grams of protein per 1 cup. Other great sources of protein would include quinoa, green peas, broccoli, and tempeh. For omega-3 fish oil, chia seeds, flax seeds, and hemp seeds would contain all of those omega-3 fish oils that you need for a healthy brain. By adding these seeds to the diet, it would be possible to get rid of fish slowly. 
Dairy Products
Most people are used to drinking milk at the start of the day and before they go to sleep because they are taught at an early age that milk contains lots of nutrients the body needs.
However, cow's milk is not really good for human consumption because it contains a lot of trans fat and cholesterol which is not good for people if consumed a lot. So alternatives to milk would be vegetarian milk such as soy milk or almond milk. Soy milk, though, may not be that good because commercial soy milk actually has a lot of GMO, so the best milk alternatives are almond milk, oat milk, coconut milk, and rice milk.
As for other dairy products, these milk alternatives can also be turned into cheese or butter. These days, coconut milk butter is slowly getting more popular because of the vegetarian trend. As for cheese, soy cheese tastes almost as good as regular cheese, so it's considered to be quite a good alternative. 
Eggs 
For most people, eggs are a staple food that is used for many dishes such as omelettes, sunny side-up and many more. Eggs are also used for baking purposes.
Although eggs may seem quite indispensable, there is actually an alternative to eggs known as fleggs. Fleggs are made out of flax meal and water. This combination can be used for baking in general and can also be used for making dishes that have eggs such as some popular vegetable dishes like spinach with scrambled eggs and so on. 
Aside from eggs, tofu can also be used as a substitute for egg, and it's known to have a good amount of protein as well. People who constantly crave eggs and are on high protein diets may actually replace egg dishes with tofu dishes. Practicing making some nice tofu dishes will be beneficial for those who are trying to steer clear of eggs. 
Free Recipes For You: Perkins Potato Pancakes: Perfect Copycat Recipe
Bee Products
A lot of people love honey because it adds a sweet taste to any dish. While there are no big safety or health concerns with honey (other than allergy to bee products), honey isn't something vegans and vegetarians would take because it is still a byproduct of a bug.
Fortunately, there are a lot of alternatives to taking honey. For those who are looking for a good sweetener, then coconut nectar or agave nectar are two good alternatives.
Lately, there is also another type of honey alternative that has hit the market. It's known as "honee" and is a bee free honey. Honey is made out of apples and sugar with some lemon to give it an overall sweet and slightly sour taste. 
Bread Products
Sandwiches are very common lunch foods that a lot of people eat. It is possible to have a few alternatives to bread. Some tortilla corn chips may also be used. Tortilla corn chips may not be as durable as bread when making a sandwich, but it's really delicious, so it can be a really good substitute.
Another way to substitute bread would be to use vegetables. For example, it is possible to make a no bread sandwich by replacing the buns with big pieces of sweet potatoes or portobello mushrooms.
After that, it can be stuffed with other vegetables like lettuce, tomato, etc. Other than the ones mentioned above, other vegetables may be used as well. One alternative would be to slice a cucumber in half, dig out the middle, and place some stuffing inside. Other bun replacements would also include tomatoes, carrots, or even eggplants.
Desserts
One of the biggest foods to wind off would be sweets such as cakes, pies, and other types of desserts. Since most people have a sweet tooth, totally avoiding the sugar may affect beginner vegetarians both physically and mentally because those who are used to eating sugar will crave sugar from time to time.
The best alternative would be fruits. Fruits have natural sugars that are very healthy for the body, so if the body is craving any sugars, the natural sugars that come from the fruits may actually substitute for desserts. Dried fruits such as raisins, dried blueberries, dried strawberries, and prunes are very good substitutes for desserts. These can all be eaten right after meals such as breakfast, lunch, and dinner. 
Chips and Other Snacks
Chips and snacks are usually foods that people would eat while working or watching TV. While chips and other processed snacks like crackers are the first things people get when they need a snack, an alternative for vegetarians would be baked vegetables.
Baked vegetables are a healthy alternative to chips and processed snacks because they don't contain all the additives and other substances that may be harmful for the body. Some of the good ones would be baked zucchini chips, baked sweet potato chips, baked eggplant chips with chili powder, and the regular baked potato chips made from real potato slices.
It is also possible to experiment with other vegetables as well such as beets, kale, and even broccoli. The taste will all depend on how the vegetable was baked and what condiments are used. 
Chocolate
While chocolate, in its natural form, is actually vegetarian, the chocolate bars that are being sold in the convenience stores and the supermarkets are not. This is because commercial chocolates are made out of milk, sugar, and other flavoring such as caramel, vanilla, among others.
Without all of these additives, chocolate is actually vegetarian since it comes from the pod of a cocoa tree. With this, dark chocolate is a good alternative to regular chocolate. These days, people have also been creating raw cacao bars in order to get the goodness of original chocolate.
Dark chocolate and even cacao bars are actually somewhat bittersweet but they have an acquired taste. Getting used to the taste will be able to satisfy those urges for sweets. Dark chocolate can be bought in almost any supermarket and in almost any convenience store while specialized health stores would sell all natural cocoa bars.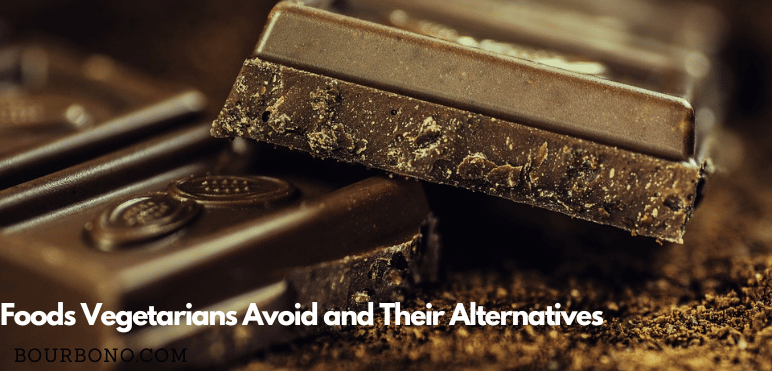 Beer
When beer is made, usually the brewers would make use of gelatin or even casein to make the thick beer texture. Since both gelatin and casein are made out of animal products, this means that vegetarians would not want to consume beer because of this. However, vegetarian beer drinkers do exist because there are a lot of beers in the market that are vegetarian friendly. Some alternative beers would include Barney Flats Oatmeal Stout which is made out of Oatmeal and High Roller Wheat beer which consists of wheat. All of these alternatives are good for vegetarians as they all don't contain any animal byproducts.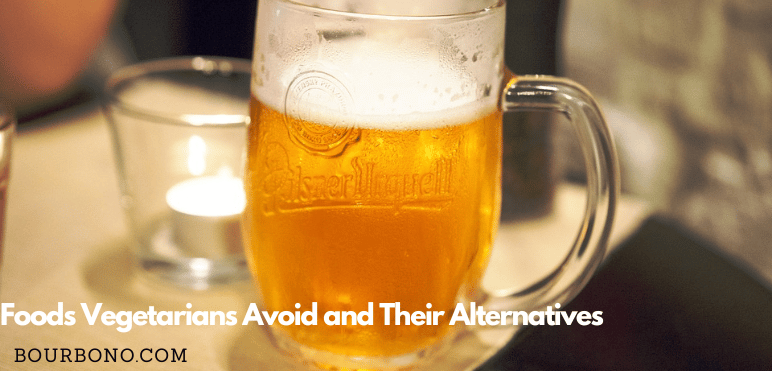 Gelatin
Most people are not aware that gelatin is actually made out of animal bones that also contain animal skin, ligaments and cartilage, according to PETA. Knowing this, it may not be very good for vegetarians to buy gelatin from outside stores. A better alternative would be to create some homemade gelatin at home. Instead of using animal ingredients for creating the gelatin, alternatives such as agar-agar and carrageen.
Agar agar is a soft gel like substance that comes from pressed seaweed and is used for making jelly. Carrageen, on the other hand, is also known as Irish moss and is also a type of pressed seaweed that is used for the creation of gelatin. It is possible to also use this ingredient to make homemade gelatin without encountering any problems.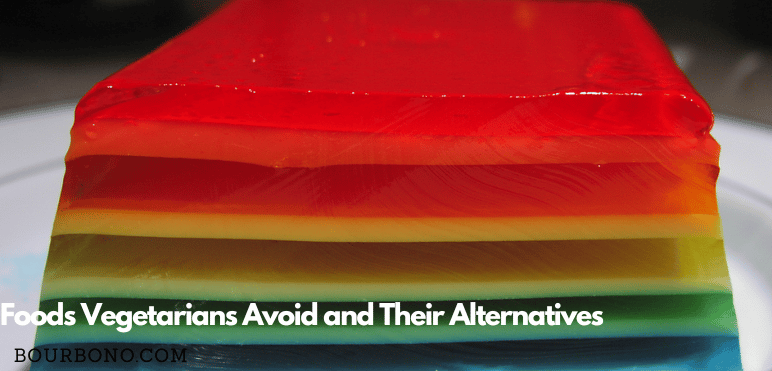 Salad Dressing
The most popular salad dressing that people would use for their salad is thousand island salad dress or ranch dressing which is made out of mayonnaise. Mayonnaise is made out of eggs, lemon juice, and vinegar so it is also not a good condiment for vegetarians because of the presence of eggs. The same goes for thousand island salad dressing because they have similar ingredients.
The best alternative would be to change creamy salad dressing to an oil based salad dressing. Natural oil such as olive oil and grapesed oil may be used for salad dressings. Other than oil, apple cider vinegar and other vinegars like balsamic vinegar are good for salad dressings.
By combining those ingredients, it is possible to make a vinaigrette which is the salad dressing that is used in most gourmet and fine dining restaurants. 
French Fries
The usual french fries that people eat from fast food restaurants such as McDonalds, Wendy's or Burger King would usually be made out of artificial additives that would make it last very long. Notice that it is possible for fast food restaurants to keep their fries so many days without it even getting spoiled.
This is because it contains these harmful additives. Other than that, a lot of fries are cooked with a lot of oil from animal fat. Because of this, french fries actually aren't good for vegetarians. The best alternative would be to simply make homemade fries.
Homemade fries can be made out of regular potato slices deep fried in vegetable oil. Baked potatoes is another very delicious alternative. In fact, baked potatoes are better than fries because they require less oil to make. 
Baked Beans
Some baked beans that can be found in the market actually contain some meat inside of it while most brands of baked beans have lard inside of them.
Baked beans is one of the most popular breakfasts in a regular American diet, however, it may not be good for vegetarians to eat because of the components. In the absence of baked beans, it is actually possible to create a vegetarian version of baked beans.
This dish would make use of dried beans with a mix of molasses and maple syrup. Put all the ingredients together and bake them until they are ready to eat. 
Read now: Chocolate Cake with Hazelnuts: a Delicious Treat for Any Occasions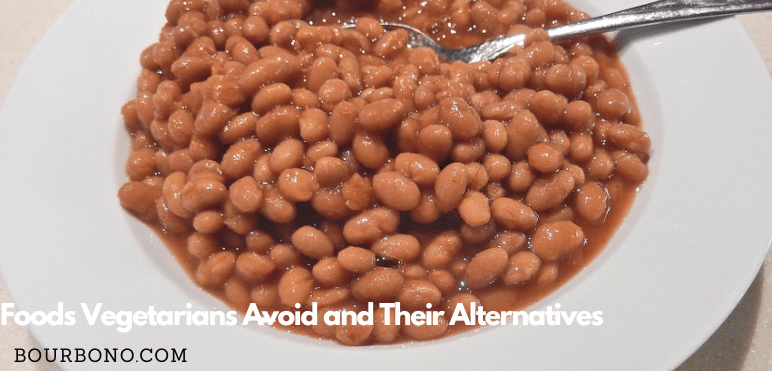 Pasta
Some types of pasta are made out of fresh eggs which is an ingredient that is not advisable for vegetarians to eat. With this, it may not be a good idea to eat regular pasta that is bought in the market. One of the most popular alternatives to pasta would be brown rice pasta.
Brown rice pasta is made out of rice so there are no non-vegetarian ingredients or any components that come from meat. Other alternatives would include Quinoa noodles, soba noodles, or even shirataki noodles. Those alternatives may be used even for pasta dishes and they do not contain any animal ingredients.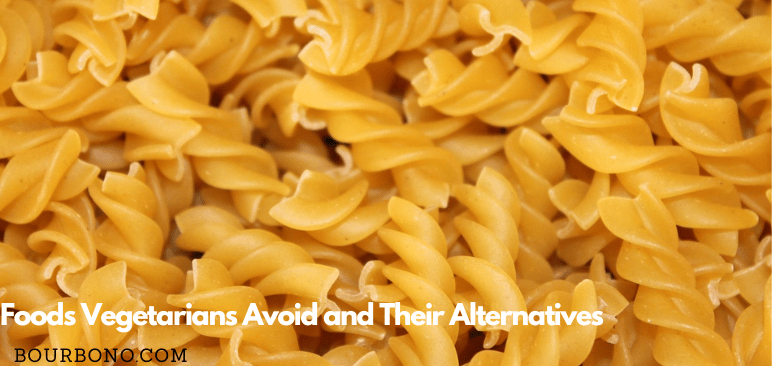 Refined Sugar
Almost all commercial food items would have refined sugar because sugar is usually what is used to add taste. However, there are some manufacturing companies that would add some charred cattle bones to lighten the sugar. This is not only bad for health but it is also something that goes against vegetarianism. So the best alternative to refined sugar would be trying out other natural sugars that come from fruits. Coconut sugar is by far the best alternative to regular sugar because is not only very delicious but it is also very healthy to the body. It is definitely a good alternative to refined sugar. 
Farm Produce
As most people know, some farm produce such as commercial fruits and vegetables would have a coating of wax on them to protect them from any predators and from any outside substances that could spoil the produce. This wax is made out of either petroleum or beeswax in which both components are not good when consumed.
It is because of this very reason that vegetarians would prefer to buy organic fruits and vegetables instead of buying the ones at the market. Organic produce are a little bit more expensive but they are definitely healthier and they do not contain wax coverings.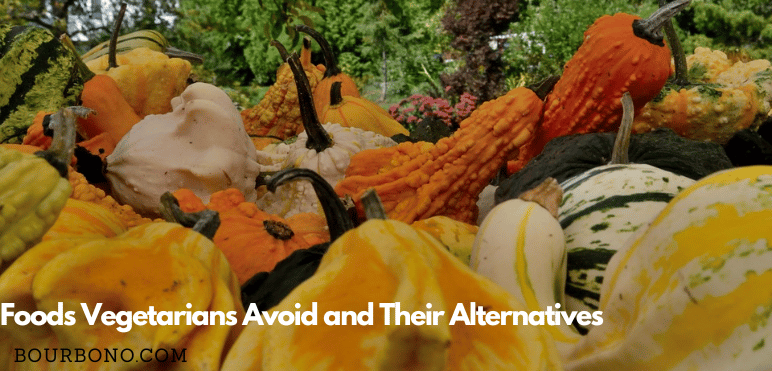 Cochineal or Carmine
Cochineal or carmine are simply food dyes that give certain foods a red color. Though it is a natural dye that does not really have any serious health hazards, it is a dye that is made out of the scale of a cochineal insect which means that it is not vegetarian friendly. There really is no alternative to carmine but it would just be pure diligence to avoid foods with artificial coloring as a whole. Mostly, these can be found in sweets and snacks so the best alternative there would be to simply eat fruits during a craving for sweets. 
Pesto
While most people would think that pesto is automatically vegetarian friendly because it is made out of basil leaves, pesto actually contains some ingredients that come from animal products. For example, pesto is usually made from a cheese known as Grano Panado which is  dairy product and not good for vegetarians.
Unless there is a completely organic pesto in the market, then the best alternative would be to create a basil sauce or oil from actual basil.
To make a good oil based pasta with basil, first fry some garlic until golden brown and slightly fry some basil leaves. After that, dump the mix into the pasta and start mixing. While mixing, pour some olive oil to add to the taste. Add a dash of pepper and some salt to give it a more defined taste. That is a completely vegetarian method to making an alternative to pesto and it is delicious.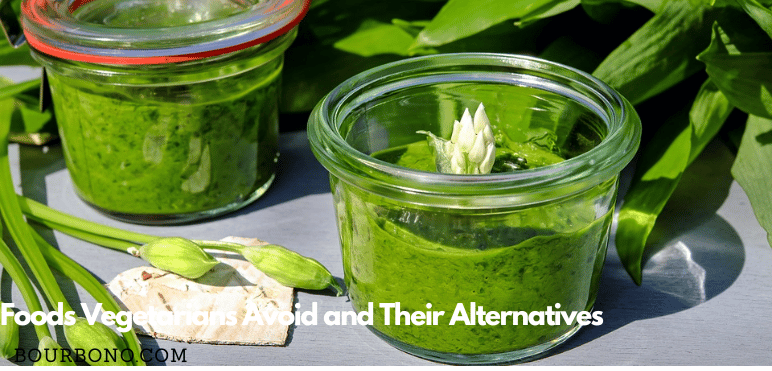 Worcestershire Sauce 
Worcestershire sauce is an amazing sauce that is used in so many dishes. However, the only downside to that is that it contains anchovies so it is something that vegetarians would also not like to take. Since anchovies are a type of fish, it will not fit into a vegetarian's diet.
However, there are alternatives to worcestershire sauce. In order to get the salty and sour taste of the sauce, it is possible to mix hoisin sauce, soy sauce, and a little bit of vinegar. If the combination is gotten correctly, then it is actually possible to mimic the taste of worcestershire sauce.
Another alternative to worcestershire sauce would be oyster sauce. Although it won't give the exact taste of the sauce, it will give a somewhat similar feel to when you take worcestershire sauce. Oyster sauce would be more of an acquired taste. 
Coffee Creamers
Coffee drinkers would understand the importance of coffee creamers as it would make the coffee taste better than its original bitter form. However, the thing about coffee creamers is that they are made of dairy which is a non-vegetarian component.
As a vegetarian, it is quite a challenge to find a creamer that would fit into the chosen diet. Even non-dairy creamers have a by product of dairy known as casein. With this, it would definitely be very hard for vegetarians to find a good creamer for their morning coffee.
Luckily, there are a few alternatives that could be used as creamers. Almond milk and soy milk are two of the best vegetarian creamers available. Soy milk in particular is very versatile so it can mix with coffee quite well. Another alternative is coconut milk as coconut milk is a very good neutralizer when it comes to balancing out taste.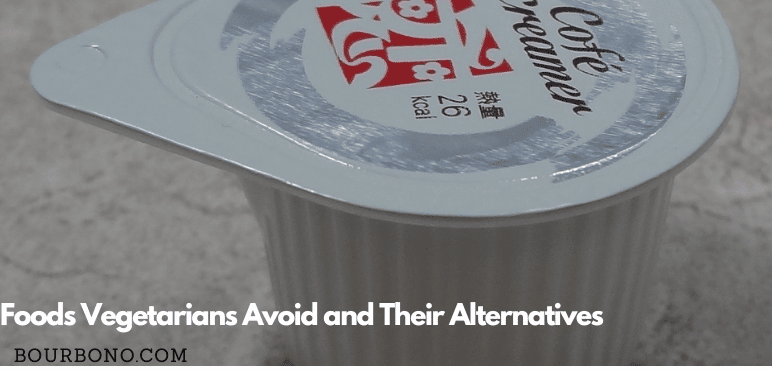 Those are some of the most common non-vegetarian ingredients that most people eat and that vegetarians should avoid. Always take note that avoidance doesn't necessarily mean going cold turkey. It simply is a matter of finding the right alternatives that would replace the said ingredients and dishes so that avoidance of meat and animal products will be easier. Mentioned above are common things that people would eat and their respective vegetarian replacements.
Following this list of Bourbon O will make going vegetarian so much easier and smoother. It is also a good list for those who are beginning their journey into vegetarianism.