Shrimp Chop Suey is pretty easy to put together as it's basically a stir fry recipe of shrimp and vegetables. This dish is not only super healthy but also amazingly delicious with the addition of a thickened yummy sauce.
And it can be both considered as a side dish or main dish depending whether you serve it with a side dish or not. Let's discover the easiest step-by-step instructions for Chop Suey Stir Fry.
Origin of Shrimp Chop Suey
The exact origin of the Chop Suey dish still remains unknown. What we know so far is that this dish belongs to American-Chinese cuisine. But the questions about when, how, and who was the first one to start this dish are still left with no answers.
But as you learn about this recipe on the Internet or in cookbooks. You will find out there's a common theory about Chop Suey's history. This dish was made by mixing randomly any available leftovers or ingredients and covered with a thick sauce. Chop Suey is also claimed to be a noodle-based dish, like Chow Mein.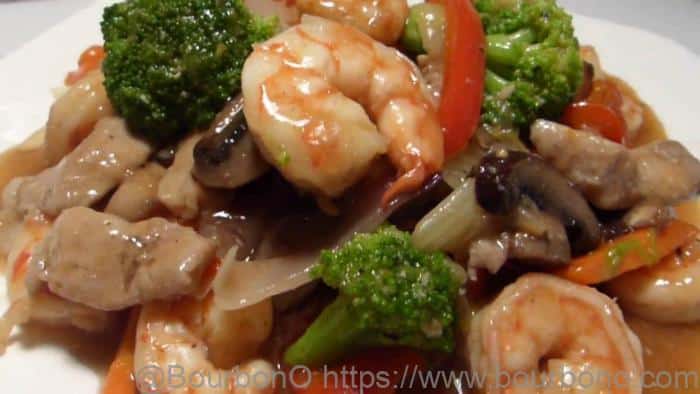 Ingredients of Shrimp Chop Suey
A Chop Suey gives you a wide variety of selections when it comes to choosing ingredients. That being said, you can freely use as many varieties of seafood, meat, vegetables and other additions/substitutions as you want. So pick whatever ingredients you like and don't be hesitant to eliminate the ones that are not to your taste.
Options for vegetables
You can harvest fresh vegetables from your veggie garden or use the leftover ones in your fridge. For this dish, the most common options for vegetables include bean sprouts, bamboo shoots, beans, mushrooms, young corn, garlic, broccoli, cauliflower, bell pepper, celery, onions, carrots, cabbage, sugar snaps, pak choi…
Options for meat
Although this dish usually uses shrimp as the main ingredient, you can still replace it with meat. Some of the meat options from which you can choose are chicken, beef, pork… In the Philippines they also use gizzard, chicken heart, chicken or pork liver.
Options for seafood
If you want to add seafood to this dish, aside from shrimps, you can also go for mussels, squid, scallops, prawns or even small cubed fish meat.
Related article: Khashlama: Armenian Lamb and Vegetable stew Step by step recipe
Useful tips for a delicious and vibrant Shrimp Chop Suey
To cook this dish in a right way, below are some useful tips you don't want to miss:
Do not overcook your shrimps or veggies
This is definitely a huge no-no when recreating this dish. The overcooked shrimps will lose some of the nutrients and give a chewy texture. While overcooked vegetables will become gray and soggy instead of tender-crisp and vibrant as you want. Cooking time is the key factor of the dish! So it's best that you add the veggies that cook longer first and cook the ones that take less time to soften later.
Keep the veggies crisp and vibrant
Another useful advice is to cook your veggies for 1 minute in boiling water first. Then submerge the vegetables in ice-cold water. This process will help to preserve not only the veggies' nutrients, but also the flavor and vibrancy.
Use a big enough skillet or wok
The skillet's or wok's size also matter when making this dish. Choose the one that has enough space to contain all of the ingredients that you plan to use. If you over-crowd the wok while cooking, it will turn into a steamed dish instead of a stir fry dish. This will also make the vegetables soggy and gray.
Instructions on how to make Shrimp Chop Suey
Ingredients
Vegetables:
Ginger (1/2", chopped)

Garlic (2 cloves, chopped)

Green onions (2-4)

Bell pepper (1, sliced into strips)

Mushrooms (4-6, sliced thin)

Carrot (1, sliced into thin sticks)

Bean sprouts (1 cup or more)

Large onion (sliced into half moons)

Napa cabbage (8 leaves, chopped into 1" sections)
Chop Suey Sauce:
Cream of Tartar (1/8 teaspoon)

Monosodium glutamate and Sea salt (1/2 teaspoon)

Sugar & Hondashi powder (1 teaspoon)

Potato Starch (2 tablespoon)

Water (1 cup) or Chicken broth (3/4 cup)
Shrimp and other ingredients:
Neutral oil (2 tablespoons) or Sesame oil (1 teaspoon)

Water (1 cup)

Shrimp (1 lb)
More recipe: Tekamaki Tuna Sushi Roll: Step by step instructions
Step by step instructions
Step 1: Place all the prepared vegetables in a bowl. Add the green onions and bean sprouts in a separate bowl. These will be added to the dish lastly. Combine all the ingredients for Shrimp Chop Suey sauce and mix together.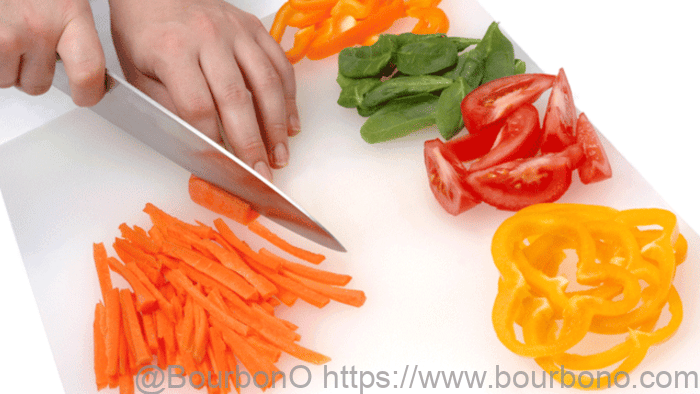 Step 2: In a large wok, tip in the oil, garlic, shrimp and some ginger and cook on medium heat. Spread the shrimp in and even layer so that it can be cooked through. Season the shrimp with some ground black pepper and salt.
Toss and stir the shrimp around every now and then. Cook for around 2 minutes until the shrimp curls and changes color. But be careful not to overcook and make the shrimp turn into an "O" shape as it will be rubbery.
Remove the shrimp from heat and set aside. It will be added back into the Shrimp Chop Suey towards the end.
Step 3: Add the vegetables and stir fry on max heat for a few minutes. Add water (1 cup), bring to the boil then cook on simmer until the vegetables become tender. You can also create a slurry out of an equal mix of cornstarch/potato starch and chicken broth/water and pour it into the wok. This will help thicken the Chop Suey
Step 4: Tip in the shrimp, green onions, bean sprouts along with Chop Suey sauce. Mix all the ingredients to obtain a thickened form of the sauce. Now the dish is ready to be served!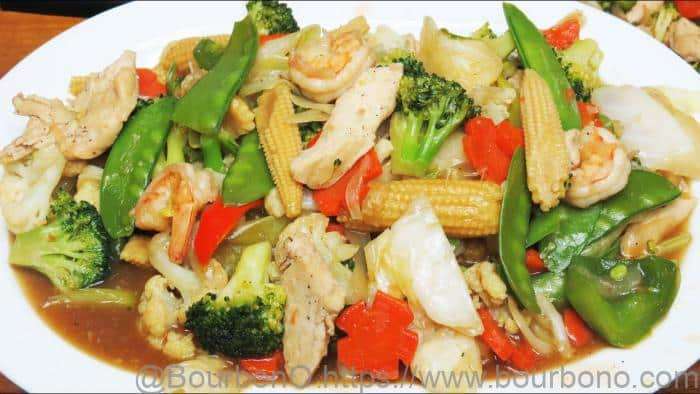 Tender stir fried shrimp or meat and vegetables coated in a thickened and shiny sauce – Shrimp Chop Suey is a dish that will surely make your mouth water. There can't be a more perfect dish to make other than this simple Chop Suey every time you crave Chinese food! Don't forget to follow Bourbon O's website for more amazing food recipes.