What does Chamoy taste like? Is it delicious? What kind of food can you combine with Chamoy? Chamoy is a unique and favored Mexican spice. Chamoy is the key to creating the unique flavor of Mangonada. Chamoy's taste is flavored, special and you should definitely try it. Let's dive into our article below to learn about Chamoy's interesting information right now. 
Chamoy Introduction
Chamoy is a sauce made from pickled fruits, dried chili peppers, and lime juice. The fruit is usually mango, apricot, or plum. In particular, this is a favorite spice of the Mexican people.
Chamoy can also be in the form of a paste or ground into a fine powder. When used for confectionery, Chamoy is commonly used as a powder that forms a coating on lollipops, making them into hard candies. Mexicans also use Chamoy sauce to make fruit smoothies (mango smoothies) to create a unique flavor for the drink.
What does Chamoy taste like
This Mexican spice is made from fruit pickled with chili peppers. Thus, it has a characteristic flavor that blends salty, sweet, sour, and spicy. Chamoy is a typical spice in Mexican cuisine. However, it is said that the origin of Chamoy is a Mexican version of the Japanese Umeboshi. Instead of Ume, Chamoy uses apricots, plums, or mangoes as the base of the sauce and adds a spicy taste typical of Mexican cuisine.
Chamoy can be combined with a wide variety of Mexican foods, drinks, and recipes because of its distinctive taste and aroma. One of the smoothies that are gradually becoming popular in the world is Mangonada. This is a delicious and unique mango smoothie. Chamoy sauce is the indispensable center of this smoothie.
Chamoy is such a popular spice that it is found all over Mexico. Mexican put Chamoy sauce on top of the fruit, drip on nachos, mix into cocktails and use as a dipping sauce for meat. It's also made into a popular candy and the spicy-sweet shades go well with a slice of lemon. Despite Chamoy's place in Mexican cuisine, it's actually an Asian invention with a Latino twist.
>>> Read more: Del Frisco's Lemon Cake: Recipes, Dishes and Ideas for Your Next Party
Chamoy Recipe
Mexicans love to use Chamoy. It will give a special flavor to fresh fruits and vegetables. Usually, it will be poured over slices of mango, pineapple, watermelon, and avocado. Another popular Mexican snack is apples dipped in Chamoy. It's like Chamoy apple candy. Chamoyada is a dessert consisting of sorbet, shaved ice, a variety of sweet and sour fresh fruits with a topping of Chamoy sauce.
Chamoy can also be used to bring a sweet spice to savory dishes. You can eat nachos, tacos, grilled vegetables, steak, and chili with Chamoy sauce. Mexico's popular street food, tostilocos uses Chamoy to season a mixture of peanuts, cucumbers, lemons, jicama, and cueritos, or dried pigskin. It can also be used as a hot sauce for serving meals as desired by many people.
In essence, Chamoy tastes like an Asian sweet and sour sauce but has an exceptional flavor and a hotter color. This unique sweet and spicy taste goes well with fresh fruits, cheeses, vegetables, and bean dishes. It's spicy without being too spicy like fresh chili. Moreover, the fruit's sweetness can neutralize the taste of the dish. If you eat Chamoy in candy form, you will feel a stronger sugar taste and a bit of salt in it. What a unique experience!
Chamoy and Tajín
Tajín is another popular Mexican spice. Many people often confuse Chamoy with Tajín. Tajín is the brand name, and Chamoy is a type of food. Chamoy is in the form of a sauce or a fine powder. Meanwhile, Tajín is a powdered mixture made up of salt, lemon, and chili peppers. And finally, Chamoy is mainly composed of pickled sour fruit. Meanwhile, Tajín's spice mix has only lime powder and no water.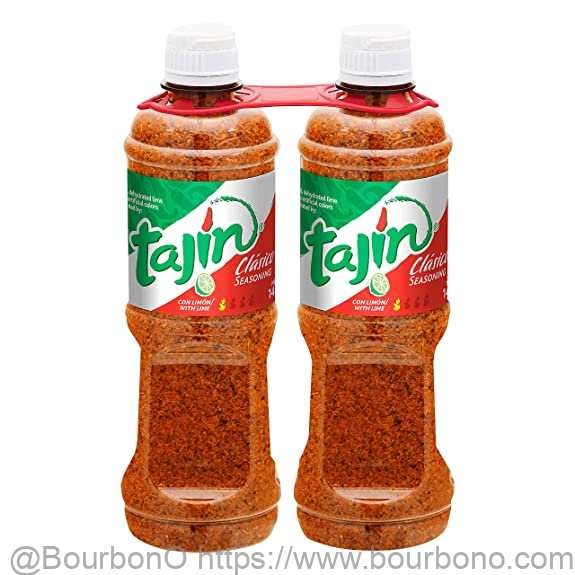 The fruit is what sets it apart from other chili and lemon condiments. Without it, other sauces and seasonings do not have the same unique bold sweetness as Mexican Chamoy.
Mangonada – an exceptional drink from Chamoy
This smoothie is full of sour, spicy, salty, sweet, and stimulating flavors. This red-brown part is spread all over the mango smoothie, creating a strange pungent taste. The final highlight is the outside tamarind flavor straw to increase the acidity of the dish.
Chamoy sauce is not too pungent, it just embellishes the drink to increase appetite. Of course, they still retain the coolness in the throat to help quench all thirst. The drink is sold at a very cheap price.
Mangonada Recipe – an exceptional drink with Chamoy
Course: Sides
Cuisine: Mexican
Difficulty: Easy
This smoothie is full of sour, spicy, salty, sweet, and stimulating flavors.
Ingredients
2 cups frozen mango or mango ice cream

1/2 cup mango syrup

1 straw per drink

1 tsp Tajín salt

1 tbsp Chamoy sauce for glazing or cup

1 lemon

1 cup orange juice to add to the mango mixture

Chopped mangoes
Directions
Step 1: First, add the mango cream (add fresh mango if desired) to the blender, add the orange juice and grind until smooth.
Step 2: Next, put a layer of Chamoy sauce in a cup and pour the ground mixture into it. Add to top 1 tablespoon of Chamoy sauce.
Step 3: Then put Tajín salt on the mouth of the cup with Tajín salt, add a little fresh mango chopped.
Step 4: Finally, add the tamarind straw and enjoy.
Recipe Video
In conclusion, Bourbon O have just shared with you the most detailed information about 'What does Chamoy taste like?'. This spice is so exceptional that you can't do without it in Mexican recipes. We hope that this article will not disappoint you. Have a good day.