How long to dehydrate deer jerky at 160 degrees Fahrenheit is a frequently asked question with regard to this dish. Jerkies are made through a drying process, which increases the meat's lifespan by eliminating the spoil-causing elements (such as liquid) in the flesh. Therefore, the drying time is considered the most important factor when making jerkies.
How long to dehydrate deer jerky at 160 ° F?
The drying time for jerky can be influenced by various factors. Therefore, it's difficult to tell the exact time in which you can differentiate between meat and jerky. However, there are some considerations that you should take into account: temperature and cut choice.
Temperature
The temperature of the oven will determine the cooking speed of your deer jerky. Evidently, if you set the oven at high temperatures, the drying process will take less time to complete. Below are the cooking time for each temperature:
4 hours – 160 degrees Fahrenheit

7 hours – 150 degrees Fahrenheit

8 hours – 140 degrees Fahrenheit

10 hours – 130 degrees Fahrenheit
As you can see from the examples above, the longest dehydration time is 10 hours. No doubt, it's quite exhausting and tiring to prepare any kind of food at such length. If you don't have enough patience, then maximize the temperature when drying your deer jerky.
Cut choice
Another huge factor which affects the drying process is the meat cut. The time and temperature mentioned above apply for lean meat cuts that don't contain fat. The more fat that the meat contains, the longer it'll take to dry. Don't expect fatty cuts of meat to shrink quickly just because they're subjected to extreme temperatures.
If you're asking: "How long to dehydrate deer jerky at 160 degrees F?". Then bear in mind that cranking up your smoker or oven to intense heat could toast the deer meat. And it's definitely not how you make a perfect jerky. To sum up, never use fat portions of any meat to make jerkies, including deer jerkies.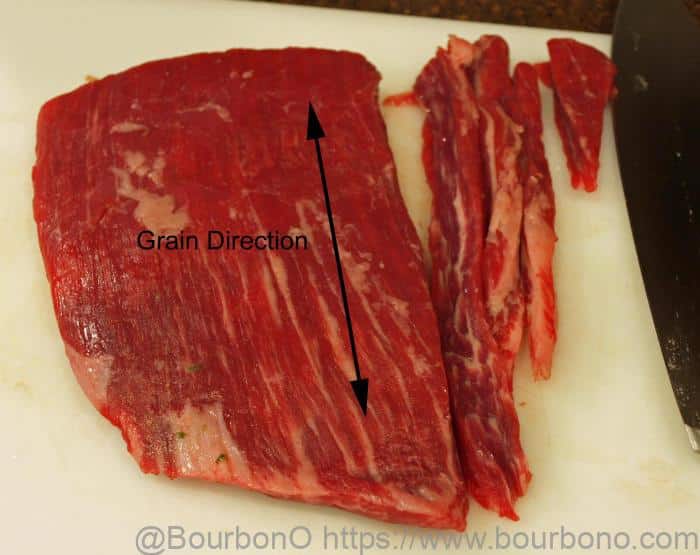 Related article: What does oxtail taste like? The taste that no one can forget
Step by step guide to make deer jerky in oven
If you don't have any dehydrator available at home, making deer jerky in the oven is a perfect choice. Here are the step by step guide that will help you make your own tasty deer jerky:
Ingredients
Boneless venison roast (1 pound)

Salt (1/2 teaspoon)

Onion salt (1/4 teaspoon)

Garlic powder (1/4 teaspoon)

Pepper (1/4 teaspoon)

Ketchup (1 tablespoon)

Liquid smoke flavoring (2 tablespoons)

Worcestershire sauce (4 tablespoons)

Soy sauce (4 tablespoons)
Instructions
Step 1: Slice the deer meat into long and thin strips (1/8" thick and 1" wide). In a Ziplog bac, combine salt, onion salt, garlic powder, pepper, ketchup, liquid smoke, Worcestershire sauce and soy sauce. Place the meat in the bag and close it tightly. Refrigerate it overnight. Evenly distribute the marinade by kneading occasionally.
Step 2: Preheat the oven to 160°F. On the bottom of the oven, place a pan or line it with foil to catch dripping juices from the meat.
Step 3: Arrange the meat strips evenly on a rack in a way that they don't touch each other. Dehydrate in the oven for 4 – 8 hours (for those who are not sure how long to dehydrate deer jerky at 160). Or dry until you've obtained the desired consistency.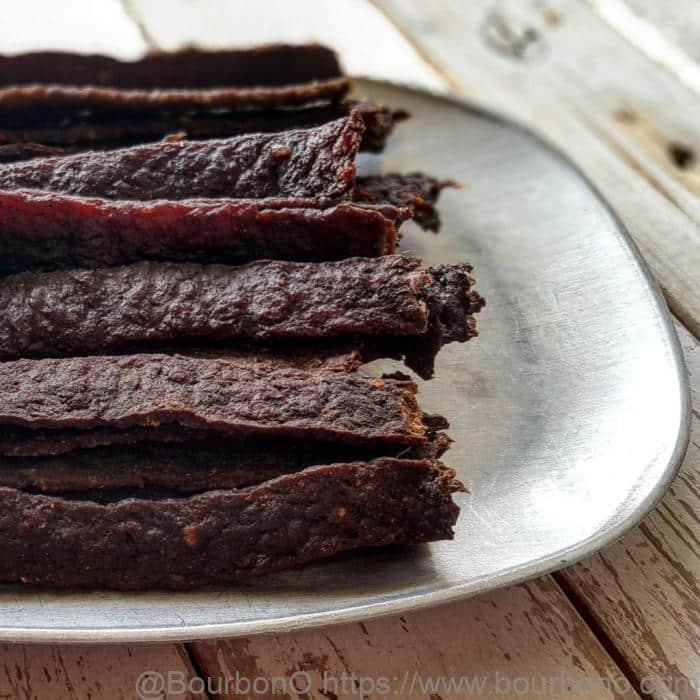 More recipe: How to make Arroz Valenciana recipe Panlasang Pinoy
Note: Flipping your deer jerky or rotating the dehydrator tray are not necessarily. However, if you notice that the jerkies are not dehydrating evenly, you can move or flip the jerky strips for a better result.
Tips for perfect deer jerky
You can know if a deer jerky is finished dehydrating
It's quite simple to know when the deer meat is already turned into a jerky. Aside from paying attention to the drying period, you might want to do some physical checks. The color is the first thing to be considered. A fully dehydrated deer jerky usually has a reddish or brownish texture.
You should also touch the meat to check the firmness. If the meat remains tender, then it's not yet a jerky and isn't ready for consumption. On the other hand, if the deer meat cracks when you bend it, then it's totally a jerky ready to be devoured.
If you leave the deer jerky in the oven or dehydrator for too long or the temperature is too high. You can easily over dehydrate your jerky. They tend to be too crumbly or as hard as dry wood.
A deer jerky will last for how long

?

You already knew how long to dehydrate deer jerky at 160. But a deer jerky will last for how long? Deer jerky, along with any other types of jerky, always has a longer lifespan than deer meat cooked with normal methods. If stored properly, they will last for 1 to 3 months. You can also put them into a freezer to extend their lifespan to 6 months.

When storing deer jerky, remember to keep them in Ziploc bags or airtight containers. This way, you don't have to worry about external detriments enter your jerky and cause food spoilage.
Marinate the deer jerky
You can marinate deer jerky just like you marinate regular beef jerky. It mainly depends on your preferences and how strong the jerky's flavor you want to achieve. For the full flavor, marinate the deer jerky from 6 – 24 hours. Nevertheless, don't let it marinate for less than 4 hours, as it's not enough for the marinade to seep through the deer meat. On the contrary, do not marinate the deer meat for more than 48 hours. Otherwise it'll cause your meat to be mushy and break down.
Above is the answer to how long to dehydrate deer jerky at 160 degrees Fahrenheit. Hopefully this post will help you make tasty jerkies and don't forget to share your cooking experience with Bourbon O!