Chuy's Boom Boom Sauce recipe has an undeniable fame, as many people claim that it's one of the most tasty green enchilada sauces ever made. Every ingredient is used in the perfect proportion. From the green chiles to green onions, tomatillos, cilantro, bell pepper… The end result is a well-balanced, creamy and tangy sauce that everyone loves!
About Chuy's Boom Boom Sauce
Everyone loves Chuy's – a Tex-Mex restaurant chain founded in 1982 by John Zapp and Mike Young. It's headquartered in Austin, Texas, America. Chuy's menu ranges from famous appetizers such as quesadillas, panchos, nachos… To salads, burritos, tacos and the most famous of all: Enchiladas. Their hand-rolled enchiladas always take the guests by storm with its Boom-Boom sauce.
When coming to this country, many tourists choose Chuy's restaurant as an ideal place to eat. The food as well as the space here is extremely special. They will especially not forget to enjoy the restaurant's famous Boom Boom Sauce.The taste of this sauce is so amazing that anyone should not miss it. You can also rely on Chuy's boom boom sauce recipe to make your own with a taste just like theirs if you haven't had a chance to come to this country. This soup can be used as a salad dressing or dipping.This sauce is made from fresh ingredients, seasoned to perfection, making every customer attractive. It will taste amazing and is especially easy to make. If you love and want to enjoy the great taste of this dish, you can also make it yourself.Then people can use this sauce for many different dishes. Among them, there are special dishes that are chosen by many people, such as chicken wings or baked potatoes.Chuy's Boom Boom Sauce is also becoming more and more popular nowadays. Any visitor to the United States will immediately look for this place. If you do not have the opportunity to experience it here, do not ignore the information shared here. Those will be specific instructions for everyone to make Chuy's Boom Boom Sauce easily.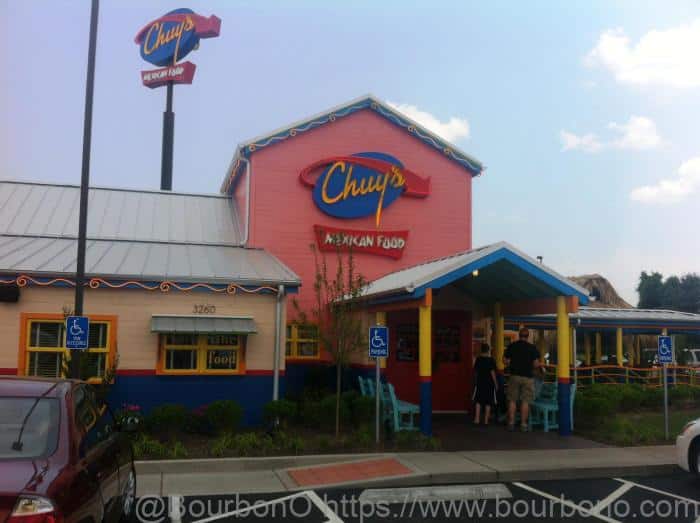 Step-by-step Chuy's Boom Boom Sauce recipe
Chuy's Boom Boom sauce ingredients
American cheese (4 slices, 3/4 oz each slice)

Green chili paste (1 tsp) to taste

4 Green onions (sliced in big pieces)

Cilantro (5 tablespoon, chopped)

Roasted diced green chiles (2 cans, 4 oz each can)

4 Tomatillos (medium size)

1 Poblano

Vegetable broth

Black pepper and salt to taste
See also: How to cook Canned Corned Beef Hash – Ask and Answer with Bourbon O
Instructions for Chuy's Boom Boom Sauce recipe
Step 1: Wash the tomatillos and poblano thoroughly under running water. Use a knife to puncture some holes. Transfer them to a Ziploc bag, seal the bag and put it in the microwave for about 2 minutes.
Step 2: Add green onion, cilantro, diced green chiles, softened tomatillos and poblano in your blender machine. Turn on the machine and start blending over high speed until all of the ingredients turn into a smooth paste. With this amount of ingredients, you'll make about three cups of sauce.
Step 3: Transfer the mixture from the blender machine to a deep pot. Then pour in vegetable broth to the sauce to make it more flavorful.
Step 4: Add green chili paste, black pepper and salt for seasoning. When adding the green chili, start with just a little amount and proceed according to your personal preferences. Pour in some lemon juice to make the Chuy's Boom Boom Sauce recipe more tangy.
Step 5: Place the pot on the stove and heat the mixture up over medium heat. Add 1 slice of cheese at a time and stir constantly until the cheese is combined with the sauce. Continue cooking on low heat for a few minutes.
Step 6: Serve with enchiladas right away or store it in an airtight jar and put it in the fridge. That's all you need to know about how to make boom boom sauce like Chuy's.
More recipe: How to cook frozen diced potatoes in the oven – Useful cooking tips
Other things about Chuy's Boom Boom sauce
Feel free to replace green chili paste with serrano pepper or jalapeno

Many people don't have enough time nor ingredients to follow this exact recipe. If so, use Salsa Verde as a substitution for some ingredients in the recipe such as tomatillos, onions, poblano… One cup of salsa verde should be enough.

This Chuy's Boom Boom sauce can be served with tortilla chips, enchiladas or any food you think that would go well.

You are wondering: "Is Chuy's boom boom sauce recipe vegetarian or not?". As you can see from the ingredient list above, it doesn't contain any meat. That's why this is an ideal sauce for vegetarians.
How to make Chuy's Chicka-Chicka Boom Boom enchiladas
Step 1: Pour some oil in the frying pan and warm it up over very low heat. Dip each of the tortillas in the warm oil until the tortilla is pliable (for about 5 – 8 seconds).
Step 2: Pour the Boom Boom sauce you just made into a bowl or a shallow plate. Carefully dip the tortillas in the sauce one by one. Make sure that each tortilla is thoroughly coated with the sauce.
Step 3: Lay one tortilla coated with sauce on a baking dish. Then add the cooked and roasted chicken meat (about 2 ounces) on top of the tortilla. Top it with some shredded cheese before rolling up the tortilla. Repeat the same step with all the remaining tortillas. Top the rolled tortillas with mixed cheese.
Step 4: Transfer them to a hot oven and bake until you notice the cheese begins to melt (for approximately 4 minutes). Arrange the cooked through enchiladas on a shallow dish. Then pour the Boom Boom sauce over the enchiladas. Enjoy it while it's hot.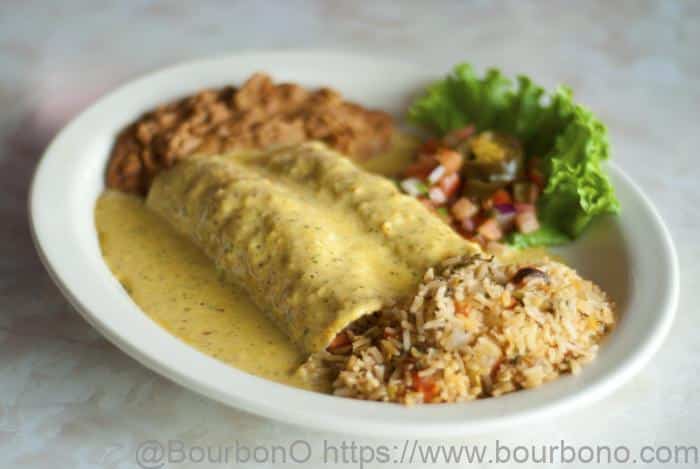 The best thing about this Chuy's Boom Boom Sauce recipe is that it doesn't consume much time to make. It's a Chuy's signature sauce that tastes amazing and can be made after just a few simple steps. If you're not sure what to choose to highlight your enchiladas, then this sauce is definitely a crowd pleaser that you don't want to miss. Don't forget to share this Bourbon O's recipe with your friends and family as well!