14 year old birthday cakes don't have to be something big and fancy, they can easily take inspiration from everyday life objects. If you're stuck on ideas for your teen's birthday cake, why not check out the most creative and coolest cake decoration styles below? You are sure to find the perfect design to surprise the birthday star and every partygoer!
The ideas for 14 year old birthday cakes
If the birthday star is a teenage boy, then you can get some inspiration from common boys' hobbies, like sports, games, racing cars, bodybuilding, video games, superheroes, technology-based products…
With regard to birthday cake ideas for 14-year-old girls, anything cute can easily put a smile to their faces. But as they will officially become teenagers, there are some birthday cake themes that will be considered "too childish", such as princesses, dolls, animals, Disney cartoons related… Instead, you can think of "more mature" cake ideas, like makeup kits, iPhones, handbags, shoes, social networks…
But of course, you also need to pay close attention to your kid's likes and dislikes. If running out of ideas, just simply ask your boy or girl what they like for an exact answer.
You may find interesting: 4 easy steps to make Bud Light Cake
5 creative 14 year old birthday cakes for boys and girls
"Get up sleepy head" birthday cake idea
Birthday cake ideas for teenagers are not that difficult to come up with, take this "Get up sleepy head" design as an example. This is a typical teenager's messy bedroom with clothes, food, magazines… all over the place! As complicated to make as this cake may seem, it's actually quite easy to pull off because most of the cake's components are made out of fondant. But be careful when you dye fondant and remember to use the paste or gel form of colors instead of liquid forms.
Beach inspired cake for birthday party
Beach theme cake is always amongst the most favorite 14 year old birthday cakes. If the birthday boy or girl is a sea lover and practices surfing, then you can't go wrong with this beach-inspired cake design. It's unique, colorful and most important of all: it's a time-saving option, as you can easily manage to buy the edible surfboards and other cake decorations in a pastry store.
Birthday cake for "Slightly obsessed" video gamers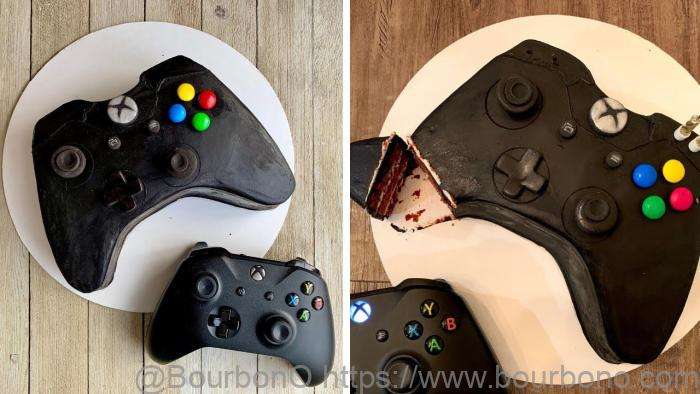 It's not surprising that almost every teenage boy loves gaming. So why not indulge your boy's passion for video games a little bit by making this game controller birthday cake.
To start off, just simply bake a basic rectangular vanilla cake, frost the middle and stack layers. Then make a game controller template out of paper, place the paper template on top of the cake and cut out the shape. Don't forget to keep the paper steady with some skewers. As you can see from the picture above, the buttons are made out of modeling chocolate and some M&M chocolate candies.
"It's a girly thing" birthday cake
If you're looking for 14 year old birthday cakes to please your teenage girl, then this cake decoration idea will undoubtedly make her over the moon. "It's a girly thing" theme features the birthday girl's favorite makeup kit: from lipstick and eyeshadow to foundation and blush. This is a cake design that will make her birthday one of the most memorable days of her life.
Read more: Del Frisco's Lemon Cake: Recipes, Dishes and Ideas for Your Next Party
"Donut grow up" birthday cake
Parents may seem happy when they see their kids enter a new phase of life, but deep down inside, they don't really want their babies to grow up. This cake idea definitely speaks from the heart with the "Donut grow up" message, but adding a playful twist that brings a smile on your birthday girl's face.
To make this cake, you can start with a basic vanilla round cake. Stack 2 to 3 layers then crumb coat the top and side. Spread more frosting all over the cake and finish with a touch of heart sprinkles. For the decorations, you can buy a ready-made topper at any cake store. Place some donuts to the side of the cake and there you have it, a cute and eye-catching birthday cake that'll surely be the centre of attention.
Simple recipe for 14 year old birthday cakes
Ingredients
For the cake:
Whole buttermilk

Kosher salt

Baking powder

All-purpose flour

Vanilla extract

Large eggs

Softened unsalted butter

Granulated sugar
For the frosting:
Rainbow candy sprinkles

Kosher salt

Vanilla extract

Powdered sugar

Softened unsalted butter
Instructions
Step 1: Preheat the oven to 350-degrees F. Cover 2 cake pans with grease and flour.
Step 2: Use an electric mixer to beat together butter and sugar (medium speed) to obtain a fluffy and light texture. Add to the mixture 1 egg at a time then beat until combined after each addition. Finally beat in the vanilla extract.
Step 3: Whisk together baking powder, flour and salt. Alternately add flour and some buttermilk. Begin and end with flour mixture. Beat till all the ingredients are combined (at low speed). Divide the batter between 2 cake pans evenly.
Step 4: Bake the batter for 25 – 30 minutes in a preheated oven. Insert a wooden pick in the center to see if it comes out with moist crumbs. Cool and chill the cake layers.
Step 5: For the frosting, beat butter until fluffy (on medium speed). Add some powdered sugar and beat until smooth (on low speed). Beat in salt and vanilla. Gradually add some cream and beat for about 30 seconds.
Step 6: Spread frosting and stack the cake layers. Decorate it with some candy sprinkles.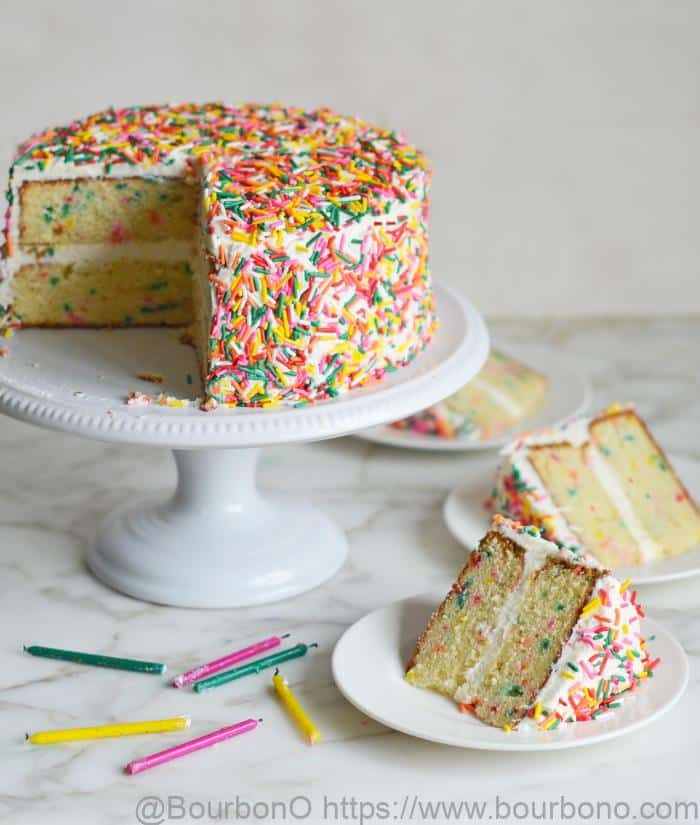 Unconventional cake flavors and designs
When it comes to birthday cakes for 14-year-olds, there's no reason to stick to traditional vanilla and chocolate flavors. In fact, it can be a lot of fun to experiment with new and exciting flavors and designs that are outside the box. Here are some ideas for unconventional cake flavors and designs:
Going beyond vanilla and chocolate: While vanilla and chocolate are classic flavors, there are many other options to consider. For example, you could try a red velvet cake, a lemon cake, or a carrot cake. These flavors are still familiar enough to be crowd-pleasers, but they offer something different than the usual chocolate and vanilla.
Incorporating unique ingredients: If you really want to get creative, consider using unique ingredients like lavender or matcha in your cake. These ingredients may not be typical in a cake, but they can add a unique and memorable flavor. You could also try adding different kinds of nuts, like pistachios or hazelnuts, to give your cake some crunch.
Experimenting with shapes and designs: Who says a cake has to be round? You can get creative with the shape and design of your cake, like making a cake that looks like a pizza or a hamburger. You could also try a cake with multiple layers or tiers, or a cake that is sculpted into a specific shape, like a guitar or a car.
Overall, the sky's the limit when it comes to unconventional cake flavors and designs. Don't be afraid to try something new and different – it might just be a hit at the next 14-year-old birthday party you attend!
Themed cakes
One fun and creative way to make a 14-year-old's birthday cake outside the box is by choosing a specific theme for the cake. Whether it's a favorite hobby, TV show, or movie, a themed cake is a great way to showcase the guest of honor's interests and personality. Here are some tips for creating a themed cake:
Choose a popular theme: The first step is to choose a theme that the birthday boy or girl is passionate about. Some popular themes for 14-year-olds include Harry Potter, superheroes, sports teams, and popular TV shows.
Match the cake to the theme: Once you have a theme in mind, think about how you can incorporate it into the cake. For example, if you're doing a Harry Potter-themed cake, you could create a cake that looks like a Hogwarts castle, complete with turrets and flags. If you're doing a sports-themed cake, you could create a cake that looks like a basketball or soccer ball.
Use colors and decorations: Another way to tie the cake to the theme is by using colors and decorations that match. For example, if you're doing a superhero-themed cake, you could use red, blue, and yellow icing to create a cake that looks like a superhero costume. Or, if you're doing a beach-themed cake, you could use blue and green icing to create waves and palm trees.
Themed cakes can be as simple or as complex as you want them to be. If you're not confident in your cake decorating skills, you can always order a cake from a bakery and ask them to create a custom design based on your chosen theme. Alternatively, if you're feeling creative, you can try your hand at making your own cake and decorating it to match the theme. Either way, a themed cake is sure to be a hit at any 14-year-old's birthday party.
DIY cake decorating
Making and decorating a cake yourself can be a fun and rewarding experience, especially for a 14-year-old's birthday party. Not only does it allow you to customize the cake exactly how you want it, but it also provides a fun activity for the birthday party guests. Here are some tips for DIY cake decorating:
Start with a simple cake recipe: If you're new to cake baking, it's a good idea to start with a simple cake recipe that you're comfortable with. A basic vanilla or chocolate cake recipe is a great place to start. You can always experiment with more complex recipes once you're more confident in your baking skills.
Use frosting and decorations to add flair: Once you have your cake baked, it's time to add some flair with frosting and decorations. You can use pre-made frosting from the store, or you can make your own using butter, powdered sugar, and milk. From there, you can add food coloring to the frosting to create different colors and use piping bags to create different designs.
Get creative with decorations: There are endless possibilities when it comes to decorating a cake. You can use sprinkles, edible flowers, fruit, candy, or even toys to decorate your cake. You could create a rainbow cake by using different colors of frosting between the layers, or you could use cookie cutters to create fun shapes out of fondant.
Provide a decorating station for party guests: If you're having a birthday party, consider setting up a decorating station for the guests to decorate their own slice of cake. You can provide different frosting colors and decorations for them to use, and encourage them to get creative.
Healthy options
For those who are health-conscious, or simply looking for alternative options, creating a healthy 14-year-old birthday cake is a great idea. Here are some tips for making a healthy cake that still tastes delicious:
Use natural sweeteners: Rather than using refined sugar, try using natural sweeteners like honey, maple syrup, or agave nectar. These options still provide sweetness, but with the added benefit of containing more nutrients than refined sugar.
Experiment with different flours: Traditional cake recipes typically call for white flour, which is high in carbohydrates and low in nutrients. Experiment with different flours such as almond flour or coconut flour, which are higher in protein and healthy fats, and lower in carbohydrates.
Add fruit: Adding fruit to a cake not only adds natural sweetness, but it also adds nutrients like vitamins and fiber. Consider using mashed banana or applesauce in place of some of the oil or butter in the recipe.
Incorporate healthy toppings: Rather than using frosting or whipped cream, consider using toppings like fresh fruit or a light dusting of powdered sugar. These options add sweetness and flavor, without the added fat and calories.
Consider gluten-free options: For those who are gluten intolerant, consider using gluten-free flours such as rice flour, quinoa flour, or chickpea flour. There are also pre-made gluten-free cake mixes available at most grocery stores.
Creating a healthy 14-year-old birthday cake may require some experimentation and creativity, but the end result can be just as delicious as a traditional cake. With the added benefit of being healthier, a healthy birthday cake can be a great option for those who want to indulge without guilt.
Making 14-year-old birthday cakes isn't so hard, you just need to let your imagination run freely! Don't forget to check out Bourbono's website for more cake ideas and recipes!