"How to cook Vienna Sausages?" – you'd probably wonder the same question when you need to prepare dishes out of these sausages. Not only do they have a long shelf-life, but Vienna sausages are also super simple to prepare. There're tons of ways that allow you to cook Vienna sausages. However, in this post, we'll share some of the most common cooking ideas that you can come up with.
How to heat Vienna Sausages
In the microwave
Step 1: Place a small saucepan on the stove. Then heat it over medium-high heat. Pour in the broth and the sausages.
Step 2: Heat up in the microwave for 1 to 2 minutes. Note that some microwaves have stronger wattage than others. That's why you can reduce the heating time by 5-10 seconds to get the sausages done according to your preference.
Note: Remember to transfer sausages to a microwave-safe and air-tight container.
On the stove
Step 1: Heat a small saucepan on the stove over medium-high heat. Pour in the broth and the sausages.
Step 2: Cool until simmer so that the sausages can become nice and warm (about 3-6 minutes). Remember, you don't need to bring to a boil as the sausages are already cooked through.
Fry the sausages
Step 1: Heat a small skillet over medium-high heat on the stove. Add some butter to the skillet if you want, as this will make the sausages more crispy and flavorful.
Step 2: Pull the sausages out of the can using a fork. Hold for a few seconds so that the broth can drain from the sausages before placing them in the skillet.
Step 3: Cook for about 3 to 4 minutes or until the sausages are as warm as you like. Flip the Vienna sausages a few times with a spatula while cooking, allowing them to cook evenly.
Related article: How to make Perkins potato pancakes – Copycat recipe
How to cook Vienna Sausages in different recipes
Sausage pigs in a blanket
To make this recipe, you'll need a tube of crescent dough. One tube will give you 24 pigs in a blanket. You will need to buy about three cans of Vienna sausages to make that many.
Step 1: Pull the crescent roll dough out of its can. Then cut it into 1-inch-wide pieces (lengthwise).
Step 2: Arrange the pieces of dough on a cutting board and unroll them. Place one Vienna sausage on a piece of dough. Make sure you wrap the dough tightly around the sausage. You can also cover the pigs in a blanket with egg wash. Beat an egg in a bowl, then add a spoon of the egg wash onto the dough.
Step 3: Transfer all the sausages coated with dough to a baking tray. Put the tray in a 350-degree oven. Bake for about 15 minutes, and you'll notice the dough changes color to light and golden brown.
Step 4: Pull the baking tray out of the oven and let it cool for a few minutes before eating.
Vienna sausage corn dogs
All you need for this simple recipe is just three cans of Vienna sausages and one boxed corn muffin mix. This amount of ingredients will allow you to make 24 corn dogs.
Step 1: In a bowl, mix up the corn muffin batter according to the box's instructions. Once the batter becomes liquid, dip your Vienna sausages in the mixture. Use a fork to pierce through a sausage and swirl it through the mixture until it's fully covered.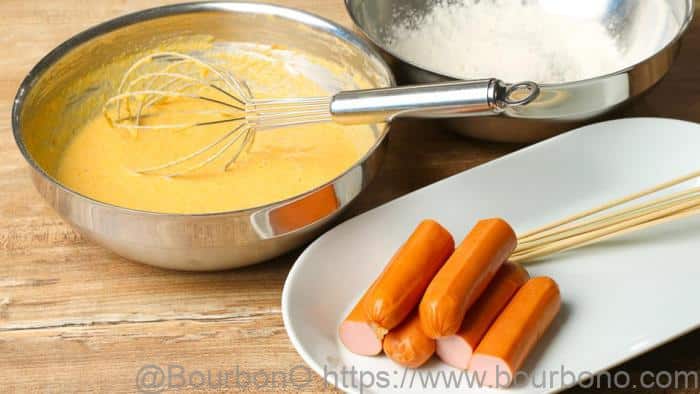 Step 2: Cook the corn dogs in a deep fryer, following the guide that came with the fryer. It should take about 3 to 4 minutes for the dogs to fry up completely.
Here's another cooking method for you to try. Heat about 1 inch of cooking oil over medium heat for a few minutes in a frying pan. On a wooden skewer, carefully place your corn dogs and cook them for about 5 minutes in oil. Rotate every 1 minute.
The corn dogs can also be baked in the oven. Arrange your Vienna sausage corn dogs on a baking tray and cook at 350-degrees F in the oven. Bake until the batter turns to a golden brown (about 8-10 minutes).
More recipe: McDonald's Breakfast Sauce Copycat Recipe
Stir fry Vienna sausages with veggies
Step 1: Chop up one onion and one bell pepper, then set them aside.
Step 2: Heat a little cooking oil in a pan over medium-high heat for a few minutes. Add the Vienna sausages and stir fry for about 1 to 3 minutes over medium-high heat. This is how to cook Vienna sausages and make a delicious dish out of them.
Step 3: In a small bowl, mix 1/2 tablespoon sugar, 1/2 tablespoon soy sauce, and two tablespoons ketchup.
Step 3: Once the sausages are cooked enough, add the veggies and cook for about 1-2 minutes or until they become crispy. Stir every 1 minute so that the sausages and veggies can be cooked evenly.
Step 4: Pour in the sauce and cook the whole mixture for about 1 to 2 minutes.
Are Vienna sausages good or bad for your health?
Traditionally, a Vienna sausage is beef and pork with sheep's intestine as a casing. 5-ounce Vienna sausages can contain up to 300 calories, and 250 of these calories are fat. About 1/3 of the fat is saturated fat, to make the matter worse.
If you don't have time to follow the instructions on cooking Vienna Sausages, you can eat them cold without cooking. However, the sausages will taste much better if you heat them or use them as ingredients in different recipes. Don't forget to share your thoughts with Bourbon O if you've tried any of the recipes above!