Jack Daniel's Drip Cake is a delicious cake that can be enjoyed at any time of the year. This post will teach you how to make a Jack Daniel's drip cake with both sweet and savory flavors. You'll learn about dessert recipes for this favorite whiskey drink, as well as some fun ways to decorate your Jack Daniels birthday cake!
This recipe at Bourbon O will help you make a moist, but not a too dense chocolate cake from scratch. Topping it with rich chocolate icing makes it simply irresistible!
The cake is then finished off with a drizzle of Jack Daniel's sauce – made from real Tennessee whiskey. The end result is an amazing and unique dessert that will tantalize your taste buds!
Jack Daniel's Drip Cake Recipe – How to make the famous Jack Daniel's Drip Cake
Ingredients
– Cake:
½ cup (113 grams) unsalted butter, at room temperature
¾ cup (150 grams) granulated sugar
⅓ cup (27 grams) natural unsweetened cocoa powder
⅔ cup (160 ml) buttermilk or sour cream
¼ teaspoon baking soda
Pinch of salt
½ teaspoon vanilla extract
For the Icing: 
100 grams dark chocolate, chopped into small pieces
80 grams unsalted butter, at room temperature
¼ cup (60 ml) heavy cream
Instruction
For the Cake: 
Step 1: Preheat your oven to 350 degrees Fahrenheit. Lightly grease and flour a round cake pan – preferably springform. Sift together cocoa powder, baking soda, and salt in one bowl; set aside. Cream butter with sugar until pale and fluffy using an electric mixer or stand mixer on high speed for about three minutes.
Step 2: Add vanilla extract during this time as well. Add eggs one by one into the batter while mixing constantly on medium speed without stopping once you start adding them till everything is combined completely. Fold dry ingredients into wet ingredients alternatively with milk/sour cream alternating between each addition beginning from the last ingredient added so that it's well combined.
Step 3: Pour batter into prepared cake pan and bake for about 35-40 minutes or until a toothpick comes out clean when inserted in the center of the cake. Allow cooling on a wire rack before icing it.
For the Icing: 
Step 1: Place chopped chocolate pieces into a medium bowl. In a small saucepan, heat cream on medium heat until just boiling then pour over chocolate and let sit for one minute without stirring. After one minute, slowly start whisking the mixture together till smooth – this should take about three minutes total time.
Step 2: Add butter and continue whisking till all ingredients are combined and the icing is shiny. If the iced cake is too thick, add a tablespoon of hot water at a time to thin it out as desired.
Step 3: Pour icing over cooled cake and spread evenly. Let cool completely before slicing to serve!
This cake is best served at room temperature. Store any leftover drizzles of icing in the refrigerator for up to three days and reheat with a tablespoon of water if it's too thick when you're ready to use it again! Enjoy this recipe and be sure to share your pictures on social media so that other foodies can enjoy them, as well!
Variations on the Recipe:
If you want to make a Jack Daniel's drip cake with a sweet flavor, use white sugar instead of granulated sugar. Add ½ teaspoon of vanilla extract to the batter as well. To make the icing, use semisweet chocolate chips in place of dark chocolate.
For a savory version of this cake, try using brown sugar in place of white sugar and add ¼ teaspoon ground cinnamon to the dry ingredients. Use milk or coffee in place of buttermilk or sour cream and omit the vanilla extract from both the cake and icing recipes. For the icing, use bittersweet chocolate chips instead of dark chocolate.
Another variation is to use a spice cake mix in place of the Devil's Food Cake mix and omit the cocoa powder from the recipe. Use pumpkin puree in place of buttermilk or sour cream and add ½ teaspoon each ground cinnamon, nutmeg and allspice to the dry ingredients. For the icing, use white chocolate chips instead of dark chocolate.
If you're looking for a Nutella drip cake, simply follow this recipe but use Nutella in place of Jack Daniel's sauce. Omit vanilla extract from both recipes.=
If you're serving your Jack Daniel's drip cake at a party or special event, try cutting it into small slices so that people can try a little bit of everything. You could also pipe icing flowers or other designs on top of the cake for an extra touch.
For more delicious recipes to take your cooking skills to the next level, visit our Food Blog.
Ideas for Occasions When This Cake Might Be Perfect:
– A birthday party
– A special anniversary celebration
– Father's Day
– Fourth of July barbecue or picnic dessert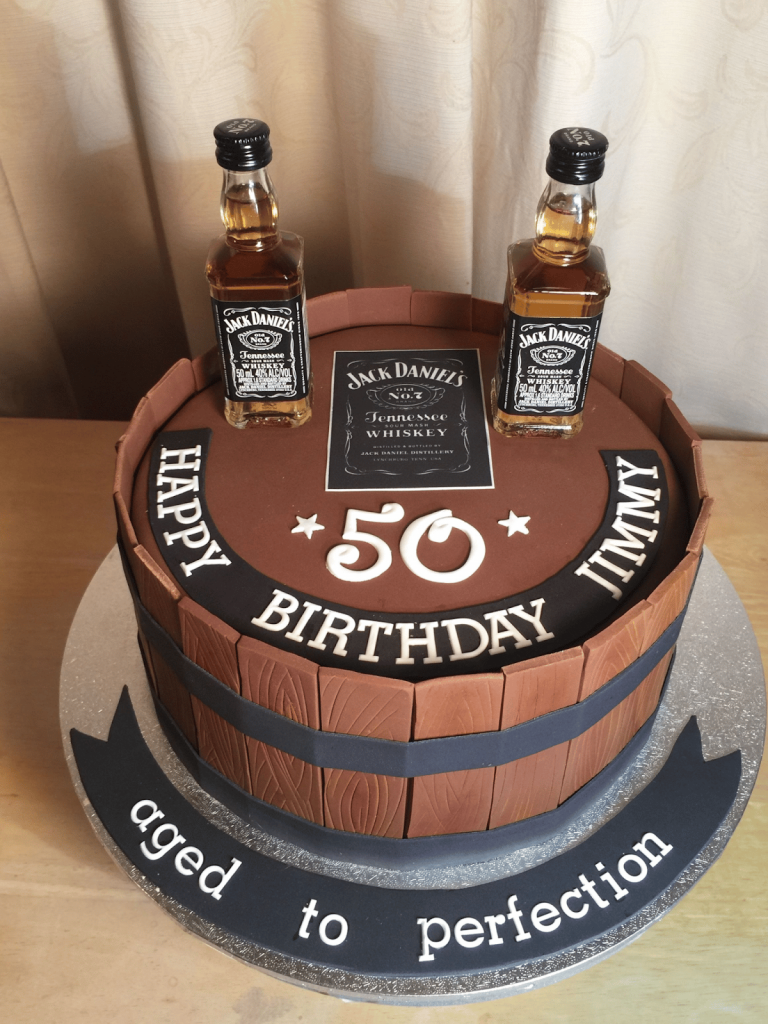 This Jack Daniel's drip cake is definitely a showstopper dessert that will wow your guests! The chocolate cake is simple to make and doesn't require many steps, which makes it a good choice for beginners. It also has an addictive sweet/savory flavor that will leave you craving more!
The icing on this cake is simply delicious! The brown sugar in it gives the chocolate icing a sweet, rich flavor that I loved. It's not overly gooey or messy as some other drizzle cakes can be due to the fact that there's no caramel involved – just cocoa powder and melted dark chocolate for sweetness instead of granulated white sugar.
The Jack Daniel's sauce was very good too but you could easily substitute your favorite whiskey if you don't want to use JD (or any alcohol at all). In my opinion, though, this really adds something special to both the cake and icing recipes so try not to skip it!
This Jack Daniel's drip cake recipe is perfect for any whiskey lover looking to add a unique touch to their dessert repertoire. The Jack Daniel's sauce gives the cake a slight savory kick, while the chocolate icing provides a rich and decadent flavor. Be sure to try it out at your next party or gathering – your guests will be sure to love it!