Birthday cakes for 10 years old can be easily bought at any store. But it will surely be more meaningful and surprising if you make one all by yourself. When it comes to designing a birthday cake, the only thing that limits you it's your imagination. In this article, we are sharing 10 super creative birthday cake ideas that will definitely make any ten-year-old boy or girl say WOW!
Rainbow layers birthday cake
You're not a skillful baker but you still want to add a wow factor to the birthday cake? Then this rainbow layers cake is something that you should take into consideration. To make the rainbow layers, just simply add some food colorings to the cake batter. The common rainbow colors are red, blue, green, yellow, purple and orange.
Once the cake layers are baked, you can stack them on top of one another and cover the whole birthday cake with white frosting. Scatter some sprinkles or vibrant chocolate candies on the coating. You can also top the cake with chocolate bars, lollipops, Oreos… or anything else that would make the cake look more appealing.
Pinata bashing birthday cake for 10 years old
This pinata cake is a brilliant way to add pizzazz to a birthday party. In fact, it's the simplest birthday cake of all kinds as it consists of only a chocolate dome. With a cake mold, you can create any chocolate shapes and sizes you like.
The cake's exterior can be decorated with chocolate candies, sprinkles or edible pearls. The secret lies in the inside of the cake, where you can hide chocolates, coins… or even the thing that the birthday star has always longed for. With a small hammer, the guest of honor gets to crack the shell and find out what's hidden inside.
Related topic: Chocolate Cake with Hazelnuts: a Delicious Treat for Any Occasions
Ice cream drip birthday cake
Among the most creative birthday cakes for 10 year olds is the ice cream drip cake. This cake is the perfect choice if you're looking for summer birthday cake themes. This design's centerpiece is the upside down ice-cream cone. And don't forget to go wild with the sprinkles, especially on top and bottom of the cake.
The tricky part about this cake is to make the ganache drips on the cake. To make the ice-cream cone look like it's melting. You can use a spoon or a squirt bottle to add the drips on the edge.
Everyone loves surprises, and so do the little children. An easy way to add an element of surprise to your loved one's birthday party is this "hidden treasure" birthday cake. This cake design has something in common with the Pinata birthday cake. But instead of being made entirely out of chocolate, this cake is made out of a basic vanilla cake base.
The key to make the "hidden treasure" cake is to cut a hole in the center of the cake layers. Then fill it with candies, sprinkles, jelly beans, chocolates… Once the first slice is cut, the candies will pour out and you will have a whole bunch of surprised party guests ahhing and oohing.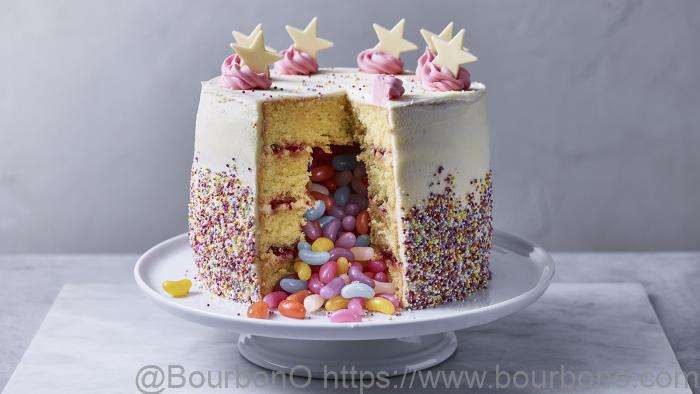 Butterfly birthday cake
If you're running out of time, this butterfly birthday cake will do you great favors. You can also make use of a pre-made cake batter to save some quality time. Bake and cool a basic cake base, then make the surface flat by cutting off the rounded top. Cut the cake in two pieces crosswise, then continue to cut each half into 2/3 and 1/3 pieces.
With the already cut pieces, you can form a butterfly as shown in the below picture. Spread a thin layer of frosting on the sides and top of the cake in order to seal in crumbs. Refrigerate for about 30-60 minutes until the frosting is set. Use the rest of the frosting to cover the cake. The butterfly body can be made out of a candy stick.
Read more: Black and Gold Drip Cakes: Desserts for Elegant Occasions
Birthday cakes for 10 year olds:
Princess doll birthday cake
Little girls who are big fans of fairy tales and spend much of their time dressed as their favorite Disney princesses will definitely love this birthday cake design. Don't be panicked over creating human figurines out of molding icing.
You can easily make use of a set of mini-figures to place on top of the cake. Or make the princess's dress out of cake base covered in rosettes frosting and cut a hole in the center of the cake to put the princess figure inside. You can also just use princess cardboard cutouts to make the cake more lightweight.
Rainbow linked unicorns birthday cake
Unicorn inspired ideas are another popular theme for girls who are fond of mystical worlds. To make this lovely cake, start off with two different tiers: one is taller than the other. Use an offset spatula to spread the frosting all over the cakes and cover them with fondants.
Make the long lines for the rainbow out of fondant and use edible glue to stick them together. Make the ganache drips using heavy cream mixed with melted white chocolate. Carefully add the drips around the edge of the cake and then cover the top with ganache as well. You can also use fondant to make the unicorns and other details.
With the ideas above, making birthday cakes for 10 year olds will not be that big of a task, right? Hope you will be able to pull off a birthday all by yourself. And be sure to read Bourbon O's next articles to discover more amazing baking ideas!