If you're tired of looking for a Butter Pecan Moonshine recipe on the Internet, we have got the answer for you in this post in Bourbon O. Butter Pecan Moonshine has a pretty low rate of alcohol with a sweet, creamy taste and only a little burn when you drink it. And you can reminisce its tase with Bailey.
This kind of alcohol is a great combination of Butter Pecan and Moonshine that no one can even think how great this combination turns out until they try it. Who doesn't love consumable products with Butter Pecan flavor????? With the existence of the delicious flavors of butter and toasted pecan in an alcohol drink, it sweetens the drink and gives it a pleasant, irresistible smell that leads you to make dessert in a jar.
Moonshine, on the other hand, is an incredibly high-proof spirit that is once known as an illegal product of rural Americans, particularly those in Appalachia. When people think of moonshine, they think of unruly hillbillies, drunken shenanigans, and the dangers of drinking a "bad batch". Despite its unverifiable notoriety in the past, Moonshine has been produced in a regimented way and is now so commercial, you can even buy it at Costco.
I think we have mentioned enough information for you to understand the main ingredients of the Butter Pecan Moonshine. Without further ado, let's dive right into the process of making it, and remember to follow our Butter Pecan Moonshine recipe to make your own at home.
Butter pecan moonshine recipe and instruction
Our Butter Pecan Moonshine recipe will have 2 main ingredients which are Butter Pecan syrup and Salted Caramel Moonshine. In this recipe, we focus on instructing you to make all of the ingredients at home. However, some of the ingredients such as Butter Pecan syrup can be purchased as a ready-made item, it totally depends on you.
Salted Caramel Moonshine recipe
In order to make this drink, we need to make the Homemade Moonshine first which is a type of Moonshine made of sugar and water. Then, we will produce the Salted Caramel Moonshine.
How to make Moonshine
Ingredients
1 kg of Sugar
Water
1 package of Bread Yeast
Equipments
An alcolhol electric distiller
A medium-sized pot
A fermented vessel or a large jar
5-8 small mason jars
Instruction
Pour 8 cups of water into a medium-sized pot. Then, turn on the heat, keep it under 120 degrees Fahrenheit and wait until the mixture gently boils.
Put sugar in the pot and stir it until it's completely dissolved. Repeat that step. Then, turn off the heat and cool it down by placing your pot into a bowl of ice.
Prepare one large bowl and pour a little bit of warm water into it. Then, add some sugar and stir it until it completely dissolves.
Add yeast into the bowl and stir well to combine.
Insulate the bowl by covering it with plastic wrap.
Prepare a large fermented jar and pour the mixture into it. Then, add the yeast starter into the jar. Close it up and let the fermenting process last for 2 weeks.
After two weeks, it should have a smell like vinegar.
Using a alcolho electric distiller to transform the fermented mixture into real moonshine.
Prepare a few jars to contain your moonshine.
Dilute your moonshine with water with a ratio of 50/50.
Producing the Salted Caramel Moonshine
Ingredients
Sugar: white and brown.
Water
Vanilla extract
Salt
Equipments:
1 Saucepan
Crockpot
Container
Instruction
Pour 3/4 cup of water into a saucepan on medium heat.
Add 3/4 cup of sugar into it and stir well to combine. Until all the sugar is dissolved, leave the heat on till the color of the mixture changes.
Turn off the heat when the mixture has an amber color.
Slowly add 3/4 cup of water into the mixture and stir it to combine. (You should do this step very carefully as it may splatter)
Add one teaspoon of vanilla extract and 1/4 teaspoon of sea salt. Dissolve it and let the mixture cool down.
Prepare a crockpot, add 1/2 cup of water, 1/2 cup of brown sugar, 1/4 cup of the syrup mixture, and 2 teaspoons of vanilla extract.
Cover it up and cook on high for 90 minutes.
Pour the salted caramel mixture into a container.
Mix the syrup with 1 cup of diluted moonshine to make the Salted Caramel Moonshine.
Until now, you have already created a salted caramel moonshine. I know it takes you a lot of time and effort, but the result is totally worth your time. In the next part of this post, we will introduce you to the butter pecan syrup recipe.
Read more: 5 Best Tips To Thicken Gravy In Crock Pot
Butter Pecan Syrup Recipe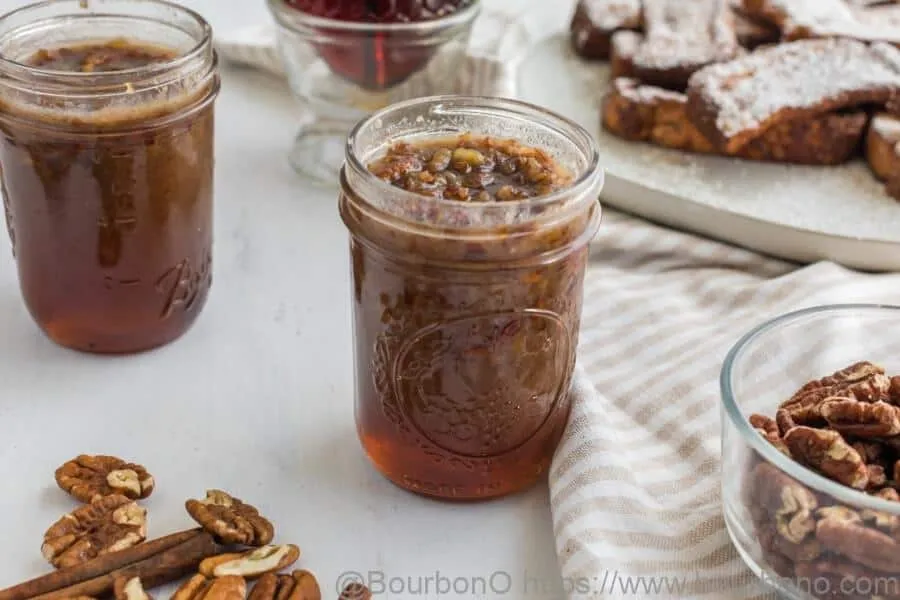 Ingredients
Brown sugar
5 teaspoons of cornstarch
Salt
1/3 cup of butter
3/4 cup toasted chopped pecans
1 teaspoon vanilla extract
Instruction
Put brown sugar, cornstarch, and salt in a slow cooker. 
Pour water into it and stir to combine. 
Cover, cook it on high, keep stirring every 30 minutes, until you get a syrupy and think context.
Put the butter in and whisk until melted. Stir in pecans and vanilla extract.
Butter Pecan Moonshine Recipe
Ingredients
4 cups of Moonshine 
1 cup of brown sugar
4 ounces of Salted Caramel Moonshine
1 cup of water
4 tablespoons of Butter Pecan syrup
4 teaspoon of vanilla extract
Instruction
Dissolve water and sugar in a saucepan. Then, cook it over medium heat.
Remove from heat when it start boiling.
Put butter pecan syrup and vanilla.
Let it cool down.
Once cooled, combine the mixture with salted caramel and regular moonshine.
Pour the mixture into a mason jar.
Enjoy your success.
In this article, Bourbon O already shares our butter pecan moonshine recipe with all of you. In fact, our recipe requires you to do a lot of work and produce your own main ingredients at home. The reason we do that is to encourage you to do it with your family member, and then you can enjoy the moonshine together as a tradition of drinking from the past. We hope that you guys will love our recipe. Please leave a comment down below to let us know how delicious your batch is.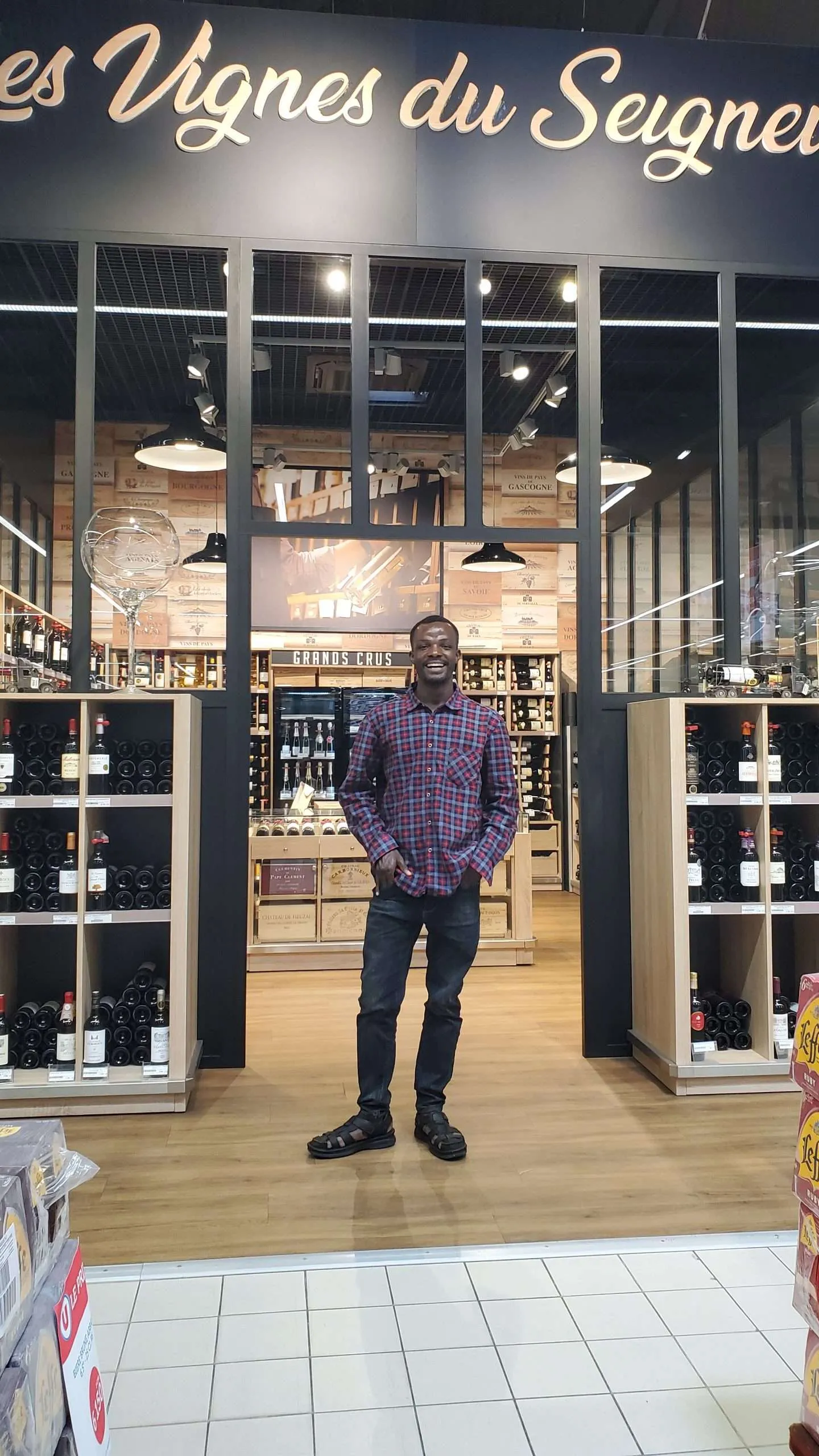 Here you will find recipes for dishes that are both familiar and exotic, all designed to tantalize your taste buds and inspire your inner chef. So whether you're an experienced cook or just starting out, we hope you will find something to excite your palate.